At a Glance
Expert's Rating
Our Verdict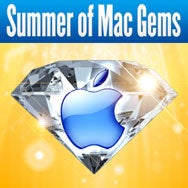 Editor's note: The following review is part of Macworld's Summer of Mac Gems series. Each business day until the middle of August 2008, the Macworld staff will use the Mac Gems blog to briefly cover a favorite free or low-cost program. Visit the Mac Gems homepage for a list of past Mac Gems.
Life is too short to spend fumbling around for the proper keyboard combination to produce the Euro symbol. Yet, invariably, that's what I wind up doing whenver I'm writing a story about iPhone pricing on the other side of the Atlantic.
At least that's what I used to do until Ergonis Software's PopChar X came into my life. Now I've got a handle on grave accents, tildes, and other special characters because PopChar lets me insert any symbols, Greek letters, and mathematical operators right into a document without giving a moment's thought to the proper keyboard combination.
Here's how it works—PopChar lives in your menu bar. Just click on the "P" icon whenever a keystroke combo has you stumped, and a floating table of characters will appear over all other application windows. Scroll through the table to find the character you want, or—more conveniently—type a description, like "euro" into the utility's search box and marvel as the "€" symbol appears before you. Click on the symbol, and PopChar will insert it into the active document. And if you do care to learn what combination of keystrokes produces that character, the bottom corner of the PopChar table even displays the proper keyboard combination and hexadecimal number for the symbol (Shift-Option-2 or #219 for the euro, in case you were interested).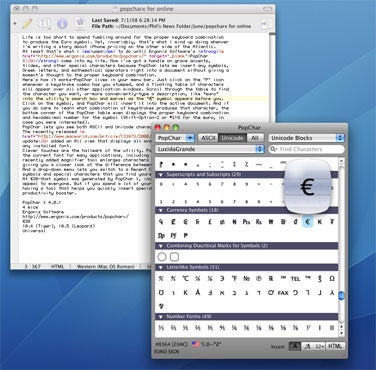 PopChar lets you see both ASCII and Unicode characters in your favorite fonts. The recently released 4.0 update added an All view that displays all available Unicode characters in any installed font.
Clever touches are the hallmark of the utility. PopChar automatically detects the current font for many applications, including Microsoft Word ( ), Microsoft Excel ( ), and Bare Bones Software's BBEdit ( ). A recently added magnifier tool enlarges characters in the utility's window, giving you a closer look at the difference between a diaeresis and a circumflex. And a drop-down menu lets you switch to a Recent Characters for quick access to symbols and special characters that you find yourself using frequently.
At €30—that symbol was generated by PopChar X, incidentally—this utility won't appeal to everyone. But if you spend a lot of your work day dealing with text, having a tool that helps you quickly insert special characters can be a real productivity booster.