At a Glance
Expert's Rating
Pros
Attractive, innovative new interface
Good synchronization between computers and mobile devices
Excellent contact and calendar capabilities
Our Verdict
For personal organization, Apple has focused on the basics with its Address Book and iCal programs, which are included with Mac OS X. These are fine light-duty programs, but they lack power for anything more than simple contact and calendar management. Chronos's SOHO Organizer 7.0.2 suite provides a feature-rich alternative that will appeal to business and power users for whom Apple's offerings are insufficiently powerful or versatile.
The $100, Leopard-only SOHO Organizer suite includes three programs. The core program is the contact, calendar, and task manager, also (and a bit confusingly) named SOHO Organizer. SOHO Notes is a virtual shoebox that allows you to capture and organize all kinds of snippets and documents. Finally, SOHO Print Essentials handles chores such as printing mailing labels, envelopes, media labels, and much more.
All three programs share a central database that can be kept private, or, in a crucial difference from Apple's programs, collaboratively shared with other users on a network. Setting up multi-user databases requires you to create user accounts and access privileges for each user, and open ports in each computer's firewall.
Organizing contacts and calendars
SOHO Organizer combines contact lists, calendaring, and task management into one application. The program has received an attractive facelift for this version, with a new Alphabet Bar that lets you jump to a group of contacts, as well as a revised calendar view. You can view your contacts as single entries (with a variety of themes that change the look of the contact card) or as a list, and Organizer allows for more fields than Address Book. Organizer 7 also adds contact duplicate checking and resolution. The calendar section provides the usual day, week, and month views, and adds year and list views. You can customize the month view to show any number of weeks, which is a useful innovation. New to SOHO Organizer 7 are automatically recurring tasks (most other products allow only recurring calendar events); also, tasks now appear as banners at the top of the Day, Week, or Month calendar views, not just in a separate task list. Past Due tasks display as red in the calendar, and show their due date.
Organizer allows you to create connections and links between contacts, events, tasks, notes in SOHO Notes, and project files. For example, adding a company to a contact automatically adds the company's address to the contact record. When you set one or more attendees for an event or task, the attendees' contact records display their associated calendar items, phone calls, and even SMS messages.
Grab it, organize it, retrieve it
SOHO Notes, also available separately for $40, grew out of Chronos's previous StickyBrain ( product, and it allows you to easily grab information from just about anywhere and add it as a note or document to the Notes database. Searching and retrieving the data is quick and easy.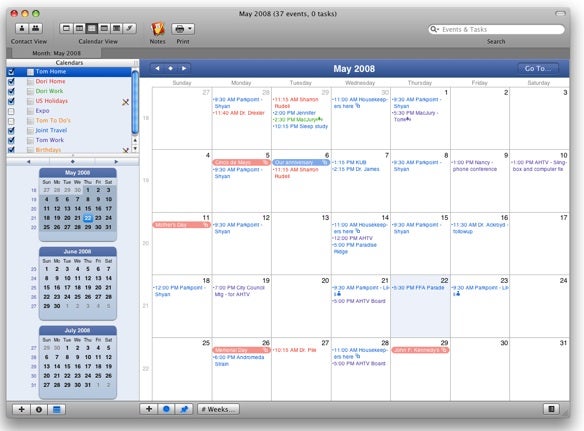 As with similar information managers, such as Bare Bones Software's Yojimbo ( ), you can drag just about any document into SOHO Notes, and you can grab selected text from any application into Notes by pressing a hotkey. Notes has special Forms for serial numbers and passwords, and you can create additional form types. Once data is in the program, you can add tags and comments, organize it into folders, or create smart folders that automatically organize notes based on criteria you set. New features include the ability to add tasks inside notes, which can then be synchronized with Organizer and iCal.
Print it all
SOHO Print Essentials goes way beyond the basics. You can print your contacts in a wide variety of sheet label formats, and the program supports Dymo [( ), Seiko, and Brother label printers. It also does mail merge for customizable letters, fax cover sheets, and invoices. A new feature allows you to design and print your own custom contact or activity reports.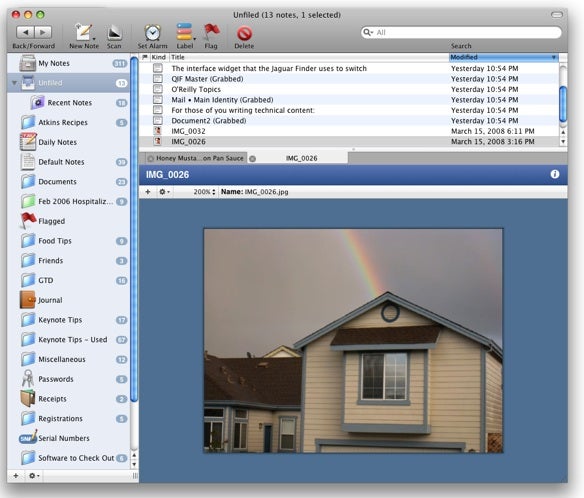 Getting along
Apple's iCal and Address Book have created an ecosystem in which any competitor must coexist, mainly because they are tightly connected to Sync Services, Apple's system framework that facilitates sharing data between multiple Macs, to .Mac, and to mobile phones. Accordingly, SOHO Organizer uses Sync Services to share its data. A single user can sync contacts, calendars, and notes between a desktop and a notebook via .Mac.
Because you can do more with SOHO Organizer, some of its items don't sync properly back to .Mac, iCal, and Address Book, or to devices. For example, SOHO Organizer creates links between calendar items, tasks, and contacts, so you can see related appointments and to-dos in a contact record. These links won't be preserved when synced to the less-capable Apple programs. Unfortunately, the user guide doesn't detail these limitations (though a alert dialog appears when you first sync), and barely discusses syncing to phones; in particular, there's no specific mention of the iPhone, Blackberry, or other popular mobile devices. The company has acknowledged this missing information, and said they will revise the next version of the user guide to include it. Synchronization to Blackberrys requires Mark/Space's Sync Services client, Missing Sync ( ).
Macworld's buying advice
The SOHO Organizer 7.0.2 suite is so packed with features, one imagines that the developers never met a feature they didn't like (for example, you can keep a personal journal in Organizer, and use Notes to write your blog posts). This wealth of features is both a blessing and a curse: while you can accomplish almost anything within reason, you may fumble a bit to find the feature you want. Still, SOHO Organizer allows for easy sharing of contacts, calendars, and notes in small groups, with good synchronization of that data to mobile devices. Its contact and calendar features are far superior to Address Book and iCal, while remaining easy to learn and use.
[Longtime Macworld contributor Tom Negrino often covers personal organizers. His latest book is JavaScript & AJAX for the Web: Visual QuickStart Guide, Seventh Edition (with Dori Smith); Peachpit Press, 2008.]