In January 2007, DVD-rental service Netflix introduced its Instant Watching service, which allows Netflix members to watch movies and TV shows streamed over the Internet. Today any Netflix member who pays at least $8.99 per month has unlimited Instant Watching access to 10,000 movies and TV shows.
Unfortunately for Mac users, Instant Watching works only with PCs running Windows. Even getting Instant Watching to work on a Mac via a virtualization program such as Parallels Desktop or VMWare Fusion can be a extremely difficult process. But Roku's $99 Netflix Player bypasses the need for Windows by displaying Instant Watching videos directly on your TV set. (Netflix has suggested that Instant Watching will one day be compatible with the Mac, but it's unclear when that might actually happen.)
Setting Up
The box itself is tiny, easily the smallest device in my home-theater cabinet. Roku and Netflix describe it as the size of a paperback book, and while it's a bit squatter than that, it's close. The black plastic is largely featureless, with its only distinguishing characteristic being the sizable collection of ports on the back. The box offers just about every connection type you can think of. For video and audio signals, there are component and composite RCA ports, as well as S-Video and Toslink optical. There's also an HDMI output for HDTVs, although Netflix has no HDTV content available at this time. In terms of networking, there's an Ethernet jack on the back of the box and Wi-Fi networking built in.
Setting the box up was extremely easy. After plugging it into my TV and a power outlet, I was able to select my home Wi-Fi network and entered in the password. As soon as the device confirmed that it was connected to the Internet, it displayed an activation code on my TV screen and prompted me to go to Netflix's web site and enter the code. When I did that, the box immediately downloaded a list of all the movies in my Netflix queue that were available for Instant Watching.
Netflix's web site still appears to be adapting its site to the concept of Instant Watching. There's now an entirely separate queue for Instant Watching, which appears as a tabbed option on the standard Queue page. Movies and shows on the Netflix site aren't as clearly marked for Instant Watching as they could be—instead of a red Add button below a title's thumbnail image, there's a split Play/Add button. If you roll over that button, it expands to add an Add to Instant Queue options.
Navigating the Box
Once the box is set up, its remote-driven interface is incredibly simple. Other than some basic settings screens, the interface is dominated by your Instant Queue. Arranged in a single horizontal row, you can scroll left or right and view every item in the queue. The box displays length and rating information for the currently highlighted movie. When you click on an item, you're taken to a detail screen that gives you a description of the item as well as options to begin playing, to rate the item using Netflix's 5-star ratings system, and to remove the item from your queue. In addition, if there's more than one program associated with an item—for example, several episodes of a TV show—you can choose the particular episode you'd like to view.
I love the simplicity of the Netflix Player interface. However, there's one major drawback: you can't browse Netflix's library of Instant Viewing items. The only items you can see on the device are the ones you've placed there via Netflix's web site. If you'd like to surf around and see what sci-fi or classic film or British TV is available, you'll have to switch to a Mac or PC and log into the Netflix website. Ideally you'd be able to surf the library from the comfort of your own couch. Perhaps in a future software update.
The Netflix Player is not without its rough edges. Generally I found it to be reliable, but occasionally when idle it would lose track of my wireless network. Other devices in my house do the same, but the Netflix Player didn't seem to react well to the situation. Often it would attempt to reconnect to the network endlessly and I'd have to restart the device by pulling its plug. Other times, when the device lost network connectivity, it prompted me to rejoin either an Ethernet or wireless network, yet despite my use of Wi-Fi, the default selection was always Ethernet. When I mistakenly selected Ethernet, the device insisted on looking for an Ethernet connection that wasn't there, and there was no way for me to get it to stop. After a few minutes I pulled the plug.
The good news is, none of these networking quirks bit me while I was actively using the device. They only seemed to happen during long idle periods when my TV was turned off and I was doing other things such as working or sleeping. And full credit to Roku for one networking nicety: the box remembers your Wi-Fi password so you don't have to continually re-type it when you lose your connection. (If only the Apple TV were so kind.)
Not Instant, But Close
Although the service is called Instant Watching, I found Netflix's definition of "instant" to be a bit more generous than mine. Yes, compared to selecting a DVD from your traditional Netflix queue and waiting a day or two for it to be delivered via mail, waiting 30 seconds or so to start watching a movie seems nigh-instantaneous. But there definitely is a delay as the box saves enough of the movie's data in a buffer to ensure that your movie will play uninterrupted no matter what minor hiccups the Internet might throw its away. (There's no hard drive in the Netflix Player, so everything you watch is streamed live over the Net. No connection, no movies.)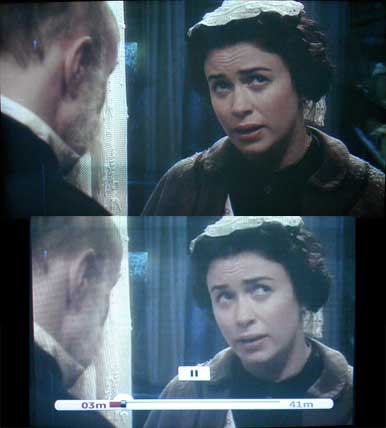 Every so often I'd hear the sound of my selection begin to play before the video appeared—an effect I'd seen before when testing Instant Watching in Windows.
Once the video begins to play, it's quite watchable, although the quality of the content varies widely. Many feature films look quite good, with near-DVD quality. Many of the TV shows I watched, however, looked more like a VHS tape. I compared one program that I own on DVD with the version that appears in the Netflix Instant Watching selection, the first season of the revived "Doctor Who" series. The Netflix version displays in 4:3 format, despite the source material's widescreen 16:9 aspect ratio, meaning the sides of the image have been cut off. The Netflix image also appeared washed out, with much lighter blacks and an overall flat feel, and motion seemed smudgy.
An episode of "MI-5" displayed in proper widescreen format, which was great, but the image quality was again more of a VHS level. Generally feature films seemed to look the best, and TV series and documentaries generally fared worse. (One documentary, "King Corn," appeared squished into a 4:3 space despite being shot in a widescreen aspect ratio, which made everything look strangely skinny until I manually set the Netflix Player to believe my widescreen TV was actually a 4:3 set.)
The Library
There's no doubt about it: the biggest failing of the Netflix Player is not the fault of Roku, but of Netflix. Despite the company's claim of 10,000 titles ready for instant viewing, the catalog is filled with old movies, documentaries, some independent films, and TV shows. Of the 110 movies in my current Netflix queue, only 10 of them are available for Instant Viewing.
What that means is that if you're expecting to use Netflix Player as a way to see the latest and greatest new releases, you'll be disappointed. (Then again, as a paying member of Netflix, you can easily get those new releases the old-fashioned way: in the mail.) However, in the two weeks I've been using the box, I've added 42 items to my Instant Queue, including several TV series I've been meaning to watch. The Netflix Player is actually a much better way to watch TV series than renting discs via Netflix, because you don't have to wait for the next disc in the series in order to watch the next episode. They're all just there for you—assuming, of course, that the series you want to watch is available for Instant Viewing. I've been meaning to watch the first seasons of "Weeds" and "MI-5" for years, but I doubt they would have ever made it to the top of my DVD queue. But now I can watch them on the Netflix Player on the spur of the moment.
The Netflix Player is also great for re-watching films you might have loved, but haven't watched again because you just never went to the trouble of adding the disc back to your Netflix queue. I'm in the process of watching "Primer" for the third or fourth time, and that's a movie I might need to watch a thousand times just to understand half of what's going on. Likewise, I've got "Gattaca" in the queue, another movie I'd like to revisit.
Macworld's Buying Advice
If you're a Netflix subscriber with a broadband Internet connection, the Netflix Player is a one-time $99 investment that can provide you with a decent (but not great) selection of video-on-demand entertainment. Despite a few rough edges, it's a tiny, unobtrusive box with a dead-simple interface. If all you watch are the latest new-release blockbusters, this device isn't for you. But if you enjoy exploring the edges of the Netflix catalog, it's hard to argue with either the convenience or the price.