This story is reprinted from Australian Macworld. For more information about the Mac from a down-under perspective, visit macworld.com.au.
The media got a special sneak peek at the Sydney Apple Store this morning, ahead of its opening Thursday afternoon. The 215th Apple Store worldwide, it's the first in Australia with at least two more planned. And, according to visiting Apple executive Ron Johnson, it's the second-largest Apple Store in the world (after London's Regent Street store). So, now that the wraps are off, what can you expect when you stroll through the doors and under the floating logo? Read on.
The Store occupies the lower three floors of a new office tower at 77 King Street (though Apple refers to the Store as being on George Street and that's where the entry is). All three floors are fronted by massive sheets of plate glass—according to Johnson, the largest sheets of plate glass in the world at more than 15 meters a piece. Behind the glass sits a glowing Apple logo, suspended from the ceiling such that it appears, at first glance, to be floating. Again, according to Ron Johnson, this is the largest Apple logo in the world. In case you haven't picked up yet, it's a store full of superlatives.
The bottom level is all Macs, with little to no indication of Apple's reliance on iPod and the forthcoming-to-Australia iPhone as revenue generators. According to Johnson, this is quite deliberate. For one thing, the Mac remains Apple's core, foundation product and the product by which its success is measured. For another thing, having the iPods on the second floor means that people have to go past the Macs to get to them. Fairly canny, these Apple types.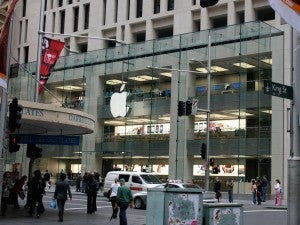 The second floor is reached via a glass staircase—an architectural staple of Apple Stores worldwide. This staircase doesn't disappoint for grandeur, though it's somewhat disappointingly hidden from street view. At the top of the stair you're greeted by a massive range of iPod products—cases, chargers, transmitters and other doodads, as well as any iPod in the range that you might like to ask for. This is also, apparently, where you'll be able to come for an iPhone, though specific questions about sales of iPhones via the Apple Store were gently batted away.
This floor also includes a range of software (though not very much of it, frankly) as well as cases and other Mac accessories. Australian Macworld's own Martin Levins was unable to obtain a MagSafe Airline Adapter though—an oversight in stock that will no doubt be remedied. At either end of the second floor you'll find cases and accessories, for iPod ands Macs. A surprisingly wide range of both, actually.
The top floor is reached via a second glass staircase, directly above the first. The effect of the two together is actually quite striking, and compensates somewhat for its lack of street visibility.
At the top you'll find the Genius Bar. You'll know by now what Ron Johnson said about this: it's the longest Genius Bar in the world. Whether this is because Australia is seen as more in need of help than other countries, or whether it's just because we have an unusually high concentration of Geniuses (Genii?) was not explained. I'll plump for the latter. At either end of this training level are "Personal Trainers" with whom you can book one-on-one training sessions.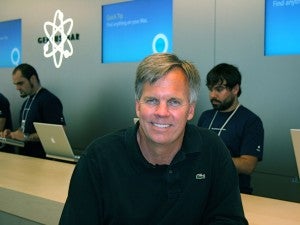 The Genius Bar and the Personal Trainers are really what set the Apple Store apart as a retail experience. The former allow you to bring in any problem you're having with Apple gear—hardware or software—and they'll do their darnedest to fix it for you on the spot for free. If it turns out to be something that can't be fixed in twenty minutes or so, you're given the option of a longer consultation though this won't be free. Likewise the personal Trainers can be booked by appointment to help you with aspects of your Mac usage that might be confusing or troubling you. Installing software, getting to understand the iLife applications, switching from Windows, and that kind of thing.
In addition to the Geniuses and personal Trainers, Apple will be running workshops on a regular basis for people to come in and get trained on a variety of aspects of Mac usage. Johnson indicated that this would include school workshops and "camps."
The Apple Store is not, of course, the first or only place where you can buy Apple gear and get trained on it—Academy Store has made training a key part of its focus—but the sheer number of staff available to help with issues is a bit of a difference.
Speaking of staff, there are reportedly around 125 staff in the Store, though not all are "front of house." Those who are in contact with customers include the aforementioned Geniuses and Trainers, as well as Concierges, Personal Shoppers and greeters, whose jobs is simply to make sure you're able to find the product you're looking for as quickly as possible. You can even, if you so wish, make an appointment with a personal shopper—though why this would be necessary I'm not sure.
I'll be at the official opening tomorrow evening and will post more images from that event. Plus, on Friday my Weekend Edition podcast will include my conversation with Ron Johnson about the Apple Store and what it means for Australia.