Innovelis on Thursday announced the release of BudFits, new accessories for iPod and iPhone earbuds that help to keep them in place when you're exercising. They cost $8.99.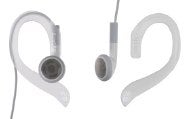 BudFits, make of soft, flexible rubber, snap on to Apple earbuds and then wrap over the top of the ear. The earbud cable fits into the channel and wraps to stay out of the way, and the wrap design is flexible, so it molds to your ear's shape. The design helps keep the earbuds in place during physical activities whether you're running, cycling, snowboarding or whatever it is you like to do.
BudFits come in different finishes — Frosted Clear, Stealth Black and Vanilla White.