Wow Technology on Thursday announced that it is now distributing its Wow-Pen Joy, a vertically-designed mouse that it says reduces wrist fatigue. It will cost $30 when it reaches U.S. retailers in July.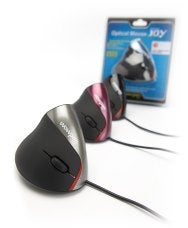 The mouse — which works with Mac OS X, Windows and Linux operating systems — features five buttons including a clickable scroll wheel, an optical resolution of 800 dots per inch (DPI) and weighs 4.6 ounces. It comes in several different colors.
The unusual vertical design was created to help reduce the effects of carpal tunnel syndrome by enabling you to hold the mouse using a more neutral wrist position similar to gripping a pen. The company created the product based on its experience making the Wow-Pen Eco Traveler, a portable mouse with an unusual stylus shape mated to a broad base.