Playfirst continues its relentless pursuit of "Dash" games with the release of Fashion Dash for Mac OS X and Windows. The game costs $19.95, and a playabel demo is available for download.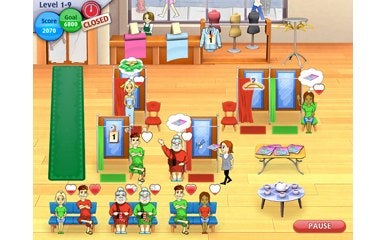 Fashion Dash is a new "time management" game cut from the same cloth as Diner Dash, Wedding Dash and others, where you have to try to handle as many customers as possible. You help Coco, an up-and-coming designer with dreams of creating a new fashion empire as she sets up a series of exclusive retail shops, waiting on customers, helping them with fittings and getting them tailored just right, then making sure they're satisfied with their purchases.
Fashion Dash features two different gameplay modes: Story and Endless Game. There are 50 levels of play all together with 10 different customer types to keep you hopping.
System requirements call for Mac OS 10.4 or later, G4/800MHz or faster (including Intel), 256MB RAM and 17.9MB hard disk space.