Electronic Arts (EA) has announced that more than 250,000 creatures have been created and shared since Tuesday's release of Spore Creature Creator for Mac OS X and Windows. In fact, as Macworld posted this article, the Spore.com Web site counted over 390,000 creatures posted so far. And Spore's legendary creator plans to show off Spore Creature Creator at the Apple Store Stockton Street in San Francisco this coming Saturday.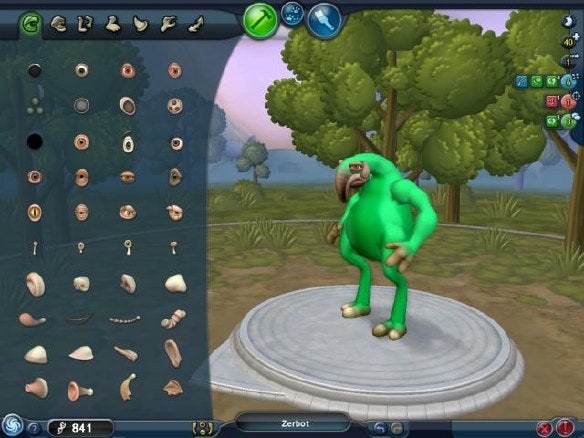 Spore Creature Creator is a design tool that lets you craft your own alien critter. It's a small component of Spore, an upcoming game from EA designed by Will Wright, the legendary creator of The Sims and Sim City. And in Spore, you affect the evolution of a race of beings from single-celled organisms swimming around in tidal pools all the way up to their emergence as a space-faring civilization. It's the ultimate "God" game from one of the genre's pioneers.
Spore is coming in September, for platforms including Mac OS X and the iPhone, but between now and then EA is whetting gamers' appetites with Spore Creature Creator, available for download in both free and paid ($9.99) versions. The free version contains a subset of the paid version's tools — 25 percent of the 228 parts you can use to assemble creatures. The software also incorporates painting elements.
Spore Creature Creator features the same design tools that will be found in the finished game, and sports the ability to share your creature designs with other Spore Creature Creator users online (using the "Sporepedia"). You can animate your creatures, take snapshots of them and e-mail them to your friends, or record video which can be uploaded to YouTube.
In addition to the free download version, the paid download version will soon be available from Gametree Online, the download service recently launched by TransGaming. Spore Creature Creator is also available in box form on one hybrid Mac/PC disc.
System requirements call for Mac OS X 10.5.3 or later, Intel-based Mac (PowerPC not supported), 1GB RAM, ATI X1600, Nvidia 7300GT with 128MB VRAM or Intel GMA X3100 or better 3D graphics (Intel GMA 950 not supported), 260MB hard disk space.
In related news, San Francisco-area readers may be interested in paying a visit to Apple's Stockton Street store on Saturday, June 21st from 7:00 – 8:00 PM. Will Wright will be there in person to show off Spore Creature Creator.