At a Glance
Expert's Rating
Pros
Built-in installation software
SmartView control panel
MicroSD card slot
High bandwidth
No pop-up antenna needed
External antenna jack
Built-in GPS
Cons
Problems with mounting the installation software's disk image
Two-year contract requirement for lowest-cost subscription
MicroSD card failed to mount
Our Verdict
Sprint has created the ultimate cellular data modem combo with its Sierra Wireless Compass 597. The device folds high-speed, ubiquitous data access and GPS (Global Positioning System) service into a tiny USB cell modem and pairs it with Sprint SmartView, new Mac OS X software that takes full advantage of the new hardware.
You use a cell data modem for access to the Internet or your remote home or office network when on-the-go. Cell data connections work with the same account and service plan wherever there is a cellular signal from a given mobile provider, such as Sprint. Wi-Fi networks, by contrast, work only in range of a Wi-Fi hotspot or within larger city hot zones, and often require different accounts or roaming service plans to access networks in different parts of a city or country, or sometimes even just across the street. Having a cell modem in a USB stick provides the greatest flexibility, as you can easily swap it among computers; and it often provides the best reception because it protrudes from the computer. Plus, it's more affordable: Sprint charges $70 to $80 more for its PC Card and ExpressCard alternatives than for this USB adapter.
Fast network
The Compass 597 uses the fastest version of Sprint's EVDO (Evolution Data Only) cellular data network, known as Rev. A. Sprint cites rates of 600 to 1,400 Kbps downstream and 350 to 500 Kbps upstream for this third-generation (3G) data network.
Sustained downloads can peak at higher rates; I saw over 2 Mbps in one test, and routinely measured upload and download rates well above the bottom end of the range described by Sprint.
Sprint's 3G network is available in all major U.S. metropolitan areas, and all major and most minor airports. The modem backs down to dial-up modem rates when the faster network isn't available. Sprint offers a street-level network map showing approximate 3G coverage.
The USB adapter requires a Sprint data subscription, which costs $60 per month with a two-year contract or $80 per month with a one-year contract, and includes 5GB of upstream and downstream data each month. Exceeding this limit in any two of three consecutive months could lead to a service cancellation, although Sprint said it would discuss the situation with a customer first, and would waive any early-cancellation fees. A $40-per-month plan includes just 40MB of combined usage each month, with a surcharge of 99 cents per megabyte for a maximum of $100 per month total in subscription and overage charges.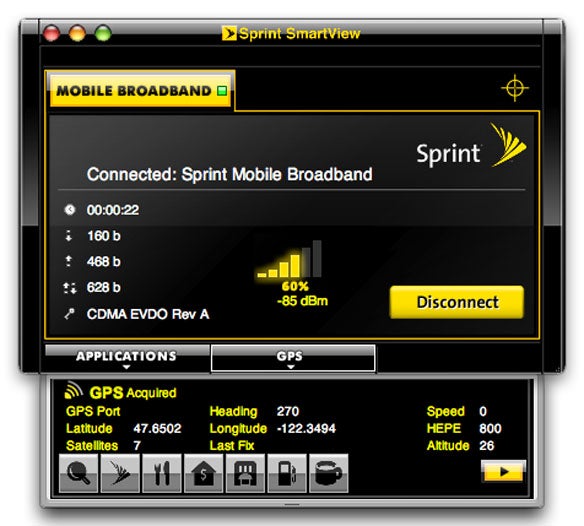 There are plenty of other cell adapters from Sprint and its 3G competitors AT&T and Verizon, including USB modems, PC Cards, and ExpressCards. But none combine as many useful features into a single device.
The compact adapter hides a microSD card slot (an extremely tiny and backward-compatible version of the Secure Digital, or SD, format), an antenna jack for boosting its signal, and an internal antenna—all within its sleek form, which fits into even the snuggest USB slots, such as the one built into the MacBook Air. It also includes a USB extension cable.
In one of many nice touches, the rubber seal over the antenna jack is attached to the modem, so it won't get lost. The modem has a similar attached plastic cover over the microSD slot, which reveals a dimpled space where you can easily insert the card or push to remove it. In contrast, a similar Verizon modem, the Novatel Wireless USB727, has a 1cm-square rubber antenna-port cover that detaches entirely, and can easily get lost. The Verizon adapter's microSD card slot is exposed and the card hard to remove.
Besides the Finder-mountable microSD storage, the Compass 597 also has a built-in installer drive that mounts on insertion, avoiding the need for a CD or for copying the installation software when you use the modem with a new computer. The software also offers auto-activation of a new modem, a one-time procedure required to register the modem on the network. This auto-activation saves you from having to enter network identification numbers, which are instead built into the modem.
In normal usage during my testing, the installation drive became corrupt and seemed to also corrupt or prevent the microSD card from mounting. When I reformatted the microSD card with a separate flash adapter and then reinserted it into the Compass 597, it started working again, but the internal installation partition remained unmountable. A Sprint spokesperson couldn't explain the problem, and the company was unable to provide troubleshooting instructions.
GPS included
The modem also contains a GPS (Global Positioning System) chip, something available on all of Sprint's current data modems. The company's competitors embed GPS chips in some models, tied to certain subscription services, but Sprint provides direct access to location information at no extra charge. You can view GPS location details directly from within SmartView, Sprint's unified connection manager, by clicking a drop-down GPS menu.
GPS coordinates and altitude are available whether or not you're connected to Sprint's data network, though you can disable the GPS option on demand, or when you're not connected to Sprint, to save on battery life. Click on one of the default buttons at the bottom of the GPS tab, corresponding to restaurants, banks, gas, and other categories, and a browser window will open with the results of a Google Maps search. You can change the mapping site to Yahoo Local or MapQuest, and customize the one-click buttons. Setting up a button that simply shows the current location on a map, however, was surprisingly unintuitive.
The GPS service can provide continuous location information in the standard NMEA (National Marine Electronics Association) format, but no Mac OS X navigation or mapping software I examined that otherwise works with conventional GPS add-on hardware, can currently accept this stream.
Because Apple provides limited support for cell modems, installing the OS X 10.5.3 update seemed to damage SmartView, which popped up a dialog box when launched after the update, saying that the adapter's drivers were missing; still, OS X 10.5.3 did recognize the USB modem. Reinstalling SmartView solved the problem.
Macworld's buying advice
Though its cellular data is still expensive, the Sierra Wireless Compass 597 cell modem is nevertheless close to ideal for most business travelers who need hassle-free data access in metropolitan areas, airports, and common venues. Sprint needs to solve the flaws in the modem's disk-image-mounting software, and mapping and navigation software makers need to consider adding support for Sprint's standard-format GPS stream. The Compass 597 otherwise should meet the needs of any windshield warrior or jet-set traveler.
[Glenn Fleishman is the author of Take Control of Your 802.11n AirPort Extreme Network (www.takecontrolbooks.com).]