At a Glance
Expert's Rating
Pros
Adjustable boom
Plug-and-play
Comfortable
Cons
Not Bluetooth
"buzzy" audio quality
USB dongle occupies available port
Shorter range than specified
Our Verdict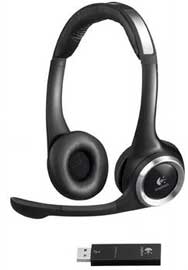 For massive multiplayer online games like the popular World of Warcraft ( ), it's helpful to have a headset if you're trying to coordinate efforts with other members of a team or guild. Rather than tangle up your desk with messy wires, a wireless headset is a nice option. For $100, Logitech sells the ClearChat PC Wireless, a headset that's lightweight, comfortable, and sounds good.
The ClearChat PC Wireless headset works with Mac OS X and Windows. It has a USB dongle about the size of a flash thumb drive as a transmitter, and communicates using the 2.4GHz radio frequency, similar to band used by a cordless phone.
The headset features a plush, padded headband and ear pads that are comfortable to wear for hours at a stretch. The right headphone integrates audio controls; you can adjust volume up and down and also mute the microphone by tapping the outside of the headphone.
The microphone rests on a boom that can swivel up and out of the way when not in use. When you swing it away from your mouth it will briefly light up with a built-in red LED to show you that it's muted. The boom is flexible so you can bend it closer to your mouth; the microphone is noise-canceling.
The headphones have a built-in battery that recharges using an included USB cable, and Logitech also included a stand to mount the USB dongle if plugging it directly in to your Mac blocks an adjacent USB port. An on/off switch lets you save power when you're not using the headphones; a built-in LED shows you the device's power status (it also lights up when you're charging the battery).
Installation is plug-and-play: No software is included, nor is it required (Logitech says 10.2.8 or later is needed, however). All you need to do to get the system to recognize the ClearChat headphones is to open up the Sound system preference and select it in the Output and Input tabs. Configuring the headphones to be used in-game is a similar procedure.
I tried the headphones with Voice over IP applications as well, and noticed that there's more buzz or static with audio recorded using this headset than "wired" headsets; I wouldn't rule out interference from other products I have in my home office (the 2.4GHz band is getting pretty crowded these days). But the quality was good, and certainly suitable for in-game audio, which is where it counts. Logitech says the headphones will work up to 33 feet away from the transmitter; my experience was more like 20.
The bottom line
Bluetooth might be preferable for some users who don't want a dongle sticking out of their Mac's USB port, but for those who don't mind another device plugged into an available jack, the ClearChat PC Wireless headset offers good quality and comfort at a fair price, with plug-and-play simplicity.