At a Glance
Expert's Rating
Our Verdict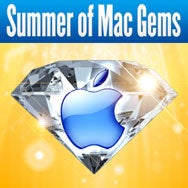 Editor's note: The following review is part of Macworld's Summer of Mac Gems series. Each business day until the middle of August 2008, the Macworld staff will use the Mac Gems blog to briefly cover a favorite free or low-cost program. Visit the Mac Gems homepage for a list of past Mac Gems.
A camera can't perceive the same range of brightness that your eye can, so it can't take one shot that captures the full range of dark to light tones that you see in a scene. To work around this problem, photographers take multiple shots of the same scene at different exposures and then combine them in an image editor such as Adobe Photoshop to create a high-dynamic-range (HDR) image with well-exposed details in both the shadows and highlights.
If you'd like to try out this type of photography without spending $649 for Adobe Photoshop CS3 ( ), give Pangea Software's Bracketeer a shot. This $30 program takes advantage of the command-line utility Enfuse which, like Photoshop's Merge to HDR command, merges bracketed exposures into a single image that's much closer to what your eye sees.
Although the interface sliders can be a bit mystifying, I've found that the default settings usually produce good results–though you'll want to combine it with an image editor such as Adobe Photoshop Elements ( ), to bring out the best in your resulting images.