Mac productivity suite-maker, Marketcircle, will bring its Daylite suite of applications to Apple's iPhone 3G. The company has been working on the iPhone application, dubbed Daylite Touch and hopes to make it available to customers later this year.
Alykhan Jetha, president & CEO of Marketcircle said there are several key features of the iPhone version that will really help Daylite customers take advantage of the devices mobility. Among them is over the air sync that will allow users to stay up-to-date with appointments and tasks while on the road.
Using Daylite on the iPhone you can also add tasks and delegate those tasks to other people on your team. So, even though you may be away from the office, you can still maintain a certain level of control over your ongoing projects.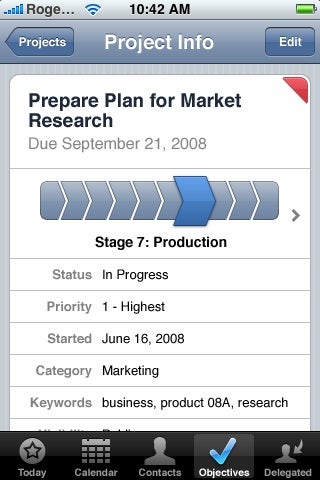 While Daylite for the iPhone doesn't currently have the ability for the user to look at other people's calendars, Jetha said that is something his company is actively working on. Marketcircle is also looking at ways to utilize the iPhone's notification service, announced during Apple's Worldwide Developers Conference.
Since its users are mobile and the threat of theft or losing the device exists, Marketcircle is including a remote wipe feature in the application as well.
The Daylite iPhone application will work in conjunction with a new product called Daylite Touch Server. Users will need to purchase the server application on a per-device basis.
Pricing for the server product has not been announced, although the iPhone application will be a free download.