JVC on Monday introduced the NX-PN7, a docking station that can accommodate two iPods side-by-side. The device charges the iPods and offers playback through built-in speakers. It costs $149.95.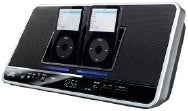 The NX-PN7 charges each iPod simultaneously and can play back music from either one. It also integrates an AM/FM tuner, clock and timer. It measures 13 inches wide, and comes in a black cabinet and speaker grille. The system's total power output is 15W, and it has an auxiliary analog audio input to connect another audio source as well as a headphone output.
Underneath each docked iPod are two illuminated strips that display one of nine colors. A remote control lets you control your iPod's playback — it's designed to simulate the iPod's click wheel.
The device also works with an iPhone, if you prefer.