Wadia Digital on Monday introduced the 170iTransport, a new docking station designed for the iPod. The 170iTransport costs $379.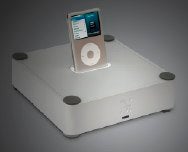 The 170iTransport is designed to enable the iPod to act as a component in a high-end audio/video home entertainment system, according to the manufacturer. It featured a S/PDIF digital audio output connector and component video output, along with analog audio and S-Video outputs. A dock lets you charge the iPod.
It works with the third-generation iPod nano, iPod classic and iPod touch, along with fifth-generation iPods and second and first-generation iPod nanos.
The 170iTransport measures 2.7 x 8 x 8 inches, moderately larger than a Mac mini, and weighs 2.42 pounds. The 170iTransport sports an external power supply, coaxial digital cable, IR remote and iPod adapter inserts. It's finished in silver powder-coated aluminum.