At a Glance
Expert's Rating
Pros
Very fast 10x optical zoom lens
Fun in-camera features and auto modes
Cons
Lack of manual controls
Loud zoom lens motors
Our Verdict
Though the pocket megazoom category of digital cameras is still brand-new, Casio's good-looking Exilim EX-H10 claims a subset of that subcategory all by itself. This compact, 10X-optical-zoom model emphasizes fun, beginner-friendly features rather than advanced controls.
The 12-megapixel EX-H10 has a big, 3-inch LCD and a slick silver and black frame that's slightly less than an inch deep. What's amazing about the camera's depth is that it somehow houses the lengthy 10X-optical-zoom lens, which reaches from an ultrawide 24mm to 240mm telephoto. Bolstering the lens is the camera's sensor-shifting image stabilization, which worked well but not perfectly when I took shots at full telephoto.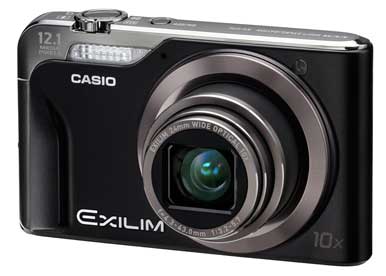 That zoom lens is astonishingly fast, too. If you need to, you can zip from full wide-angle to full telephoto in about a second, though the EX-H10's autofocus does take an additional second or so to adjust to the extreme zooming.
The rocket-powered lens also sounds like a rocket launch, however. The lens motors in the EX-H10 are louder than those of any camera I can remember.
Without a doubt, the stars of the show in this camera are its entertaining imaging features. A dedicated Best Shot button on the back of the camera gives you access to 37 scene modes. One helpful touch (and an indicator of how the EX-H10 is designed for novices) is the set of sample shots that act as menu icons. Rather than showing a list of written descriptions for the modes, the camera displays a sample shot taken in each mode to identify it. Selecting a mode and using the zoom toggle allows you to read more about the mode's specifics.
The Best Shot modes include all of the old standbys (such as Portrait, Scenery, Self Portrait, and Night Scene), as well as a Best Shot Auto mode that selects the appropriate scene for you.
A few modes in the mix are very fun, such as Dynamic Photo mode, which lets you remove a subject from its background and "green-screen" it onto other backgrounds within the camera. The mode requires you to take two shots: one of your subject, and another from the same camera position without that subject in the frame. From there, the camera can "remove" the subject from the background, and then superimpose the subject onto another photo. It works fairly well, although in my tests some parts of the background were often visible around the extracted subject.
The EX-H10 also includes a number of preset images that you can use in this mode, which allows you to perform silly tricks such as putting a bear on a coworker's head. This is definitely a feature made for the preteen and teen crowds.
Another fun mode is Silent Movie mode, which turns your video footage into slightly sped-up, black-and-white movies with no sound. Flower mode combines macro mode with vivid color settings, Soft Flowing Water mode decreases the shutter speed for artistic shots of rivers and waterfalls, and the Natural Green, Autumn Leaves, and Sunset modes place filters on images to bring out vibrant hues in nature shots. What the EX-H10 lacks in manual photo controls, it makes up for in preset photo tricks.
Two buttons on the top left of the camera give you quick access to the Vivid Landscape and Make-Up modes. Vivid Landscape boosts the contrast and color in wide-angle landscape shots, making the sky a lighter, more vibrant shade of blue. Hills in the background of my cityscape test shot came through more clearly, while shadowy areas and foreground details were a little less clear for the sake of punchier color and sharpness.
Make-Up mode purportedly removes blemishes and softens facial features in portrait shots, but it didn't seem to make my mug look any better in test shots. (At least my face didn't break the camera.)
The more-common features of the EX-H10 are a mixed bag. Manual ISO settings go up to 1600 (the camera also has a High Sensitivity Best Shot mode to jack the ISO up even higher), but noise started showing up in test shots at ISO levels as low as 400. High-ISO shots came out very bright, but splotchy.
Although it was great to have one-touch access to the movie mode via a dedicated button on the back of the camera, I found video capture a bit disappointing. You won't have to worry about the sounds of the noisy zoom lens creeping into the audio track of any movies you shoot with the EX-H10, but unfortunately that's because the EX-H10 allows only for digital zoom in movie mode, which also makes full-zoom video shots very blotchy.
The EX-H10's 720p video footage (at 24 frames per second, saved as AVI files) looked decent, as long as I didn't move the camera around too much. When I did, a noticeable blur appeared, and the extremely wide-angle lens caused distortion at the edges of the video frame. Audio captured by the on-board mic was surprisingly good. If you shoot video with this camera, it's best to use a tripod or otherwise keep it still.
The camera's controls are arranged a bit differently. The Vivid Landscape and Make-Up mode buttons are on the top left of the EX-H10, in addition to the power button and the shutter/zoom controls. The back of the camera provides a dedicated video-recording button, as well as four more dedicated buttons for shooting, playing back images, using the camera menu, and accessing the Best Shot modes.
In the middle of all those buttons is the Set button, surrounded by a four-way navigation ring. The top and bottom of the ring are a bit too close to the playback and menu buttons, which makes accidentally pressing either of those buttons very easy. USB-out is the only option with the EX-H10; the proprietary connector port is hidden under a flimsy flip-out door on the right side of the camera.
Specifications
| | |
| --- | --- |
| Resolution (in megapixels) | 12.1 |
| Optical zoom/focal length (35mm equivalent) | 10X/24mm-240mm |
| Battery type | Rechargeable litihium ion |
| Media Slots | 1 (SD) |
| Size (width x height x depth, in inches) | 4.0 x 2.5 x 1.0 |
| Weight (in ounces) | 5.8 |
Macworld's buying advice
The EX-H10's emphasis on fun is clearly geared toward a younger crowd, or to a user base looking for a "beginner's megazoom." Pocket-megazoom shoppers who want full manual controls should look for a different camera. If it's entertaining in-camera features you're looking for, the EX-H10 should be on your list.
[Tim Moynihan is a senior editor for PC World.]
Note: When you purchase something after clicking links in our articles, we may earn a small commission. Read our affiliate link policy for more details.