At a Glance
Expert's Rating
Pros
Includes iPod adapter
Higher resolution than previous Myvu models
Works with iPhone (in Airplane Mode)
Cons
Glare from ambient light
Still dorky-looking
Connectors can pull out of place
Our Verdict
Last year, I reviewed Myvu's Personal Media Viewer, a set of video goggles for watching video hosted by an iPod. Myvu has since expanded its line of products to include the $300 Crystal, a slimmer and sleeker set of goggles than the original (which Myvu now sells as the Solo Plus). While I still wouldn't be caught walking down the street with these things on, they're great for commuting and plane travel—times when you want to watch video without having to hold an iPod up to your face.
Myvu's Crystal headset fills a growing a niche—video eyewear that makes it possible to privately watch video stored on an iPod, other portable media player, or other video device. Such products have long existed, but they've often caused eyestrain and been heavy enough to give you headaches. Microoptical, the company behind Myvu, has taken its optical technology for medicine and military applications and adapted it for consumer applications. Since the debut of Myvu's original viewer in 2006, the company has expanded its product line and focus to other personal media players and to other styles of eyewear. The Crystal is one of its latest efforts—a sleek designer headset with a pinched middle bridge, rather than the utilitarian Geordi Laforge style of the Solo Plus.
The Crystal headset itself weighs less than three ounces. That's slightly heavier than the Solo Plus, but it's still pretty light, and I wore the Crystal the duration of a cross-country plane trip without any appreciable head or eye strain.
One of Myvu's claims to fame is that it uses optics you can see through, so while you will see an uninterrupted image inside the glasses, windows in front also let in a little bit of light to give you some situational awareness—you can see people walking towards you, navigate around obstacles, and so on, without bumping into them. Myvu has taken this concept one step further with the Crystal by offering the front "lenses" in either black, which filters out most external light, or amber, which lets in more light. I tried out the black version, but you'll often see Myvu advertising the amber Crystal unit.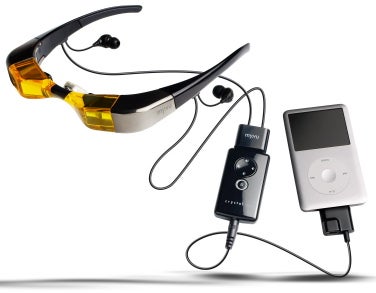 The headset sports canalbud-style earpieces, and Myvu provides several tips to fit a variety of ear sizes. The silicone nosepad is adjustable, and you can also order a prescription lens insert.
Inside the headset is a solid optical display that sports 640- by 480-pixel (VGA) resolution. That's higher than that of the Solo Plus, which was limited to 320 by 240 pixels, although the image is still restricted to a 4:3 aspect ratio (you'll see "letterboxing" on the top and bottom of widescreen aspect-ratio-corrected videos).
On a recent business trip I found myself in a hotel room with a 26-inch Philips LCD TV at the end of the bed. Watching the Myvu Crystal was more or less equivalent to looking at that Philips TV from the bed. The new optics inside the Crystal are, pardon the pun, crystal-clear, and images are bright and well-defined (a remote control integrated into the Crystal's connection cable lets you vary the brightness and contrast, as well). One strange side-effect of the Crystal's design is that you'll sometimes get glare from ambient light, whether sunlight or light elsewhere in the room; it can be a good idea to turn off any other lamps or, if you plan to use the Crystal outdoors, to wear a hat with a brim.
The cables from the eyepiece to the inline remote incorporate a magnetic clasp to stay neat. The glasses need a power source independent from the iPod; inside the inline remote is a rechargeable, lithium-polymer battery good for about 4 hours of continuous operation—just long enough for me to squeeze in "The Darjeeling Limited" and "The History Boys" before the batteries on both my iPod and the Crystal finally conked out. The battery can be recharged using an included USB cable.
Although the Crystal includes a 30-pin dock-connector plug that makes it work with any video-capable iPod (including the iPhone, if you operate it in Airplane Mode), it's designed to be compatible with multiple video sources—you can also plug it into any composite-video source. So you can use the Crystal to watch video from a personal media player, personal DVD player, or other device. During a brief test with a portable DVD player, video quality was adequate—not quite as sharp as when used with an iPod, although I was able to tweak contrast and brightness.
During my testing, the Crystal's dock-connector plug had a habit of coming loose from my iPod—I'd notice audio going dead in one ear or a loss of video in one lens. Slipping the connector back into place fixed the problem, although I once I had a similar issue with the 3.5-inch miniplug that connects the inline remote pendant to the dock-connector plug/cable. Myvu needs to work on making sure these connections are tight to prevent this from happening.
Macworld's buying advice
For $300 you're going to be paying $100 more for the Crystal than for Myvu's least-expensive video headset for the iPod, but you're going to get better-quality video and a sleeker design. While it's not perfect, Myvu's Crystal provides you with quality, private video viewing on your iPod and iPhone—and these days, that's about all you can ask for in the belly of coach class on most airlines.