Slife Labs on Tuesday announced the release of Slife 2.0, a new version of its time and activity management software for Mac OS X. It can be downloaded for free.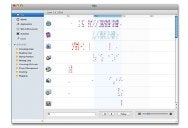 Developed for consultants, designers and others who need to keep track of time they spend on projects, Slife is designed to replace time sheets by automatically tracking your activity for you. It tracks how you interact with applications, documents and Web sites. You can view your interactions by day, month, applications, Web and documents or activities. You can set productivity goals and track progress towards them, activate privacy controls and more.
The new 2.0 release has been redesigned with a simpler, cleaner interface, according to the developers. It now incorporates six visualizations for analyzing activity, activity groups and productivity management through goals and notifications.
Slife 2.0 requires Mac OS X 10.5 or later and a G4 or better (including Intel), 512MB RAM, 10MB hard disk space.
In related news, Slife Labs has also introduced Slife Teams, which they're offering as a free, invite-only Web-based service. Incorporating some of the same features and functionality as Slife itself, Slife Teams enables a group of Slife users to stream their activities through a central subscription-based Web application instead.
The developer is currently allowing companies and teams interested in trying it to contact them for an invitation; Slife Teams is expected to roll out as a subscription-based service in the fall.