Editor's Note: The following article is reprinted from Macworld UK. Visit Macworld U.K.'s blog page for the latest Mac news from across the Atlantic.
Apple has made a stealthy service upgrade, introducing TV show downloads through iTunes in Australia.
While no official word on the new TV service has yet been put forward, the Australian iTunes site reveals the service begins with five networks: ABC Studios, Australian Broadcasting Corporation, Disney Channel, Nine Network and MTV.
Shows cost A$2.99 (US$2.84) per episode. There's 23 different shows available, including international hits such as South Park or Lost.
Apple has been bolstering the content available at its iTunes outlets outside the U.S. in the past year. Last August, the U.K. iTunes Store added television programs for download, with the Canadian store following suit in December. TV programming arrived at the German iTunes Store in April. And earlier this month, movie rentals debuted for iTunes customers in Canada and the U.K.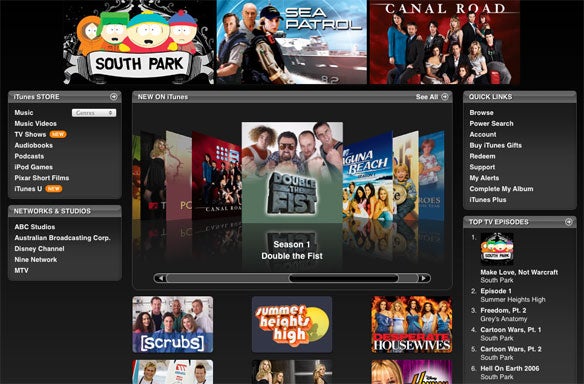 Australia has also seen a burst of activity from Apple recently. Last week, the company opened its first own-brand retail store in Australia, on George Street in Sydney. The world's second-largest Apple retail store—the Regent Street, UK one is the largest—features two floors dedicated to Macs and iPods and a third floor entirely dedicated to service, including the world's largest Genius Bar.
Australia will be among the 22 countries receiving the iPhone 3G when the updated iPhone ships on July 11. Carriers Vodafone and Optus will offer the device there.
Macworld.com staff contributed to this article.