Nokia on Tuesday announced it plans to acquire all of Symbian, which develops an operating system for mobile phones. The Finnish phone giant currently owns about 48 percent and will pay $410 million for the rest.
It has received thumbs up from Sony Ericsson, Ericsson, Panasonic Mobile Communications and Siemens, which represents about 91 percent of the Symbian shares subject to the offer, according to a statement from Nokia.
Samsung Electronics, a partial stakeholder in Symbian, hasn't commented yet, but Nokia said it expects the company to agree to the sale.
The deal doesn't come as a surprise to Geoff Blaber, an analyst at CCS Insight.
"Nokia paid out more than $250 million in Symbian license fees last year, so it makes commercial sense to buy Symbian for about $410 million, rather than keep paying what is effectively a subsidy to the other shareholders," Blaber wrote in a company blog.
But that isn't the only explanation: Competition in the mobile phone market is intensifying.
"I think Nokia was more worried about the risk that Symbian's structure would erode its competitive position," said Blaber.
Symbian is being challenged by a number of new contenders, including Apple's iPhone as well as open-source operating systems from the LiMo Foundation and Google's Android platform, which are challenging existing commercial models, according to Blaber.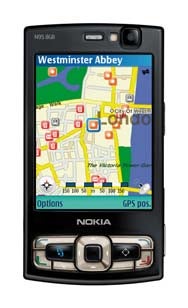 Also announced on Tuesday was the formation of the Symbian Foundation, which will come into being during the first half of next year with members including Nokia, Sony Ericsson, Motorola, NTT DoCoMo, AT&T, LG Electronics, Samsung Electronics, STMicroelectronics, Texas Instruments and Vodafone Group. All will get access to the Symbian operating system under a royalty-free license.
The deal will unite Symbian's OS and S60, UIQ (which is run as a separate company, but owned by Sony Ericsson and Motorola) and MOAP, the software platform for NTT DoCoMo's FOMA service, to create one open mobile software platform and a stronger competitor in the battle with other platforms.
To compete with Google and LiMo on an equal footing, Symbian will also become an open-source based platform. The Symbian Foundation will make some parts of the operating system available as open-source code at launch. More code from the project will be made available over the next two years under the Eclipse Public License, according to a statement.
Nokia buying Symbian was the fastest way to get all this going, and it also gains its competent staff, according to Nokia's Kai Öistämö, senior vice president of devices.
The unified platform will be based on Symbian OS and S60, with parts from the other platforms added. The first version of the unified platform will become available during the first half of 2010, according to Alain Mutricy, senior vice president at Motorola.
Öistämö underscores that even if Nokia contributes the largest part of the platform, it won't be controlled by any single vendor.
Sony Ericsson sees the joint platform as a chance to spend less time on the plumbing, and more time developing new applications, said to CTO Mats Lindoff.
At the same time UIQ Technology, which is the company co-owned by Sony Ericsson and Motorola, has said it will reduce its workforce by 200 as a result of Tuesday's announcement. UIQ Technology, in Sweden, currently employs 370 people.
If Nokia's new approach works, it could greatly benefit the Symbian platform, Blaber said. With wider input from network operators and chip manufacturers as well as closer integration of the operating system and user interface, Symbian's operating system could become more stable and attractive to operators, developers and consumers, Blaber said.
During the first quarter of 2008 Symbian had a smartphone market share of 57.1 percent, followed by Research in Motion and Microsoft, at 13.4 percent and 12.0 percent respectively. Linux was the fourth largest platform with a market share at 9.1 percent, according to Gartner.
Nokia expects the acquisition to be completed during the fourth quarter of 2008.