AssistiveWare on Wednesday announced the release of KeyStrokes 4.1, an update to its on-screen keyboard software for Mac O SX. A free update for registered users of version 4, KeyStrokes costs $299.
KeyStrokes is intended for Mac users with physical impairments. The on-screen keyboard features multilingual word prediction, to help aid users with input. It can also be used by graphic designers who prefer typing with a pen tablet instead of using a physical keyboard, or by developers of touch screen-based kiosks.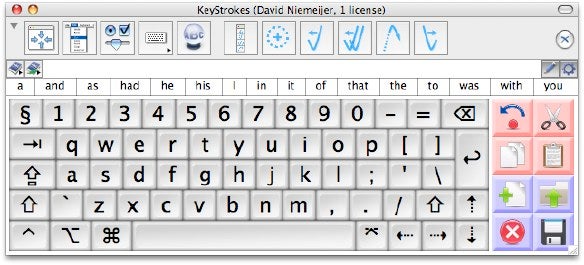 The 4.1 release is a Universal binary and offers enhanced support for Spaces, the virtual desktop capability found in Mac OS X 10.5 "Leopard." Leopard users also can use automatic layout switching through the Mac OS X Input menu.
Also included is LayoutKitchen 2.1.1, a new version of keyboard layout editor that lets users design their own on-screen keyboard.
KeyStrokes 4.1 requires Mac OS X 10.4 or later.