iLuv on Wednesday announced the release of the il255, a new device that combines a 5.1 surround-sound capable DVD player with an integrated iPod dock. It costs $149.99.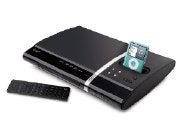 The device includes dock adapters to make it compatible with iPod classic, iPod touch, third-generation iPod nano and video iPod models. It also includes a remote control. The iPod's battery is charged when you insert it in the dock, and it can output video stored on it to a connected TV.
The tray-loading DVD player supports multiple angles, subtitles and audio functions, slow and fast-motion playback and zoom. It can read DVD, VCD, MP3 CD, audio CD, JPEG CD and Kodak Picture CD media.
The device features S-Video, composite and component video output and 5.1 analog and coaxial digital audio output.