Information Appliance Associates, makers of the PocketMac line of mobile connectivity software for Macs, has announced the release of PocketMac MacTheme for BlackBerry. It costs $9.95.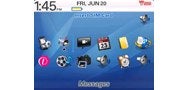 PocketMac Mac Themes for BlackBerry helps users of RIM BlackBerry-branded smartphones "Macify" their devices with a theme that looks and acts more like Mac OS X. It replaces the standard icons and images of the BlackBerry with more Mac-like icons, colors and backgrounds.
PocketMac MacTheme for BlackBerry works on the BlackBerry 7100, 7200, 8100 (Pearl), 8300, 880, 8700 and 8703e. Support for the BlackBerry Bold is coming soon, according to the developer.
The software consists of a Mac-native installer that you run (with the BlackBerry attached), then restart your BlackBerry and activate the theme.
System requirements call for Mac OS X 10.4 or later.