Altomac on Wednesday announced the release of Speedy Mac, a new utility that the developer claims can help you more quickly open everything you need — documents, folders, applications and files. Speedy Mac costs $27 and a trial version is available for download.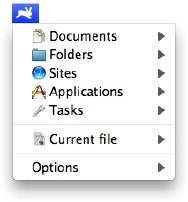 Speedy Mac lets you access your favorite documents, folders, sites and applications in lists. Recently used Web pages and your favorite pages appear grouped by site; recently used and favorite documents are automatically placed into application groups.
Speedy Mac also features an edited "Task" menu that lets you hide or quite all running applications at once, create a new folder establishing name and location, eject all removable and external disks and more. You can create new tasks using Apple's Automator or Script Editor software; the developer has released user-created tasks on its Web site.
System requirements call for Mac OS X 10.4.1.11 or later.