Until Apple starts rolling thought-controlled Macs off the assembly line, we'll still depend on keyboards, mice, and trackpads to tell our computers what to do. But some of the ways we control our Macs take more time than others. Here's how to accomplish the same tasks while typing and mousing less.
Keyboard Shortcuts Rule
Still using menus to access your programs' commands? Keyboard shortcuts are called shortcuts for a reason. Instead of choosing File: Open from the menu, press command-O; instead of Edit: Copy, press command-C. Making this simple change will save you a significant amount of time and muscle fatigue.
You'll find common keyboard shortcuts listed to the right of command names in menus. The Mac uses many common shortcuts across all programs—for instance, command-S for Save and command-Z to Undo an action you just did. That makes it easy to develop a repertoire you can use at any time.
But many other menu items offer shortcuts as well, and the more you learn, the more seconds you can shave off common tasks.
Search for Apple Shortcuts Browse your menus to find keyboard combinations for the things you do the most. Discover even more by choosing the Help menu in the Finder or an Apple program you use a lot, and then typing shortcuts in the Search field. (A few programs, such as Apple's iTunes and iPhoto, even have a Help: Keyboard Shortcuts menu item.) In some cases you'll see a help topic leading to a special page that shows shortcuts, some of which don't display in menus.
In Apple's Safari, for example, you can open a page in a new tab by pressing the command-key while clicking on a link or bookmark. Go to the Google search box by typing command-option-F. Press the spacebar to jump down one screen on a Web page, or shift-spacebar to jump up.
Some programs have special shortcuts for tasks that don't involve menus. In iPhoto '08, for example, you can set shortcuts for the most common keywords you use to tag your photos. Choose Window: Show Keywords (or better yet, press command-K) to see a list of keywords. Drag the ones you want to use to the top section of the window. You'll see a letter at the right of the tag bubble showing its shortcut, usually the first letter of the tag. (You can change these shortcuts if necessary by clicking on Edit Keywords, clicking on Shortcut, and then typing a different letter in the Shortcut field.) To apply keywords to your pictures, browse your iPhoto library with the Keywords window visible and then select a photo and press a key to tag it.
Find and Create Office Shortcuts Microsoft Office programs not only contain a multitude of shortcuts, but also allow you to create your own shortcut for any command. To view all Microsoft Word 2008 shortcuts, choose Tools: Customize Keyboard. (Access the same dialog box in Word or Excel 2004 by selecting Tools: Customize: Customize Keyboard.) From here, you can change existing shortcuts or add your own for menu items that don't have any.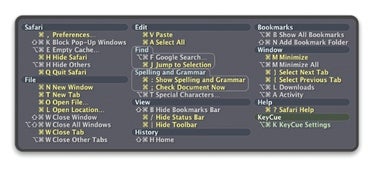 Learn from Cheat Sheets While you can browse your favorite programs' menus and help files to uncover shortcuts, there's a quicker way to see at a glance almost all the shortcuts you can use. With Ergonis Software's €20 KeyCue 4.1, you press and hold the command key for a half second to display a window listing all the keyboard shortcuts available in the current program. Access any of these by pressing an additional key—for example, in many programs, P to print. (You're already holding down the command-key.) Or use your mouse to click on a command in the list. Using KeyCue as a ready reference will also help you learn the shortcuts you use most, so that eventually you can type them directly.
KeyCue's one shortcoming is that it can't show the hidden shortcuts some programs, such as Microsoft Office, include. It accesses only the ones displayed in menus.
Explore Shortcuts for the Web The programs on your Mac aren't the only ones with shortcuts—many Web applications use them, too. If you use Gmail, you can find a list of shortcuts (such as C for Compose, to create a new message; N for Next message; R for Reply; and so on) in Gmail's help files. Yahoo Mail offers a similar range of short-cuts. Likewise, you can use your keyboard for cruising through your Google Docs.
Create Custom Shortcuts with OS X
Some programs—like those in the Office suite—let you create your own shortcuts for the tasks you perform often, but most don't. That's where OS X 10.5 (Leopard) or OS X 10.4 (Tiger) can help. If the menu commands you use don't have keyboard shortcuts, you can in many cases add your own.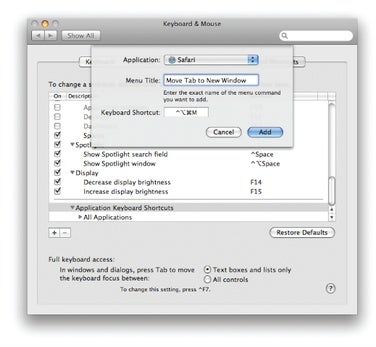 Open the Keyboard & Mouse preference pane and click on the Keyboard Shortcuts tab. Click on the plus-sign (+) button below the shortcut list. A sheet opens. Using the Application pop-up menu, choose the program for which you want to set the shortcut. If you don't see it in the list, scroll to the bottom, select Other, and navigate to that program in your Applications folder. If you want to create a shortcut that works in almost all your programs, then select All Applications in the pop-up menu. (The shortcut won't apply to some older programs or anything running in Classic mode.)
Now, in the Menu Title field, type the exact name of the menu item for which you want to set a shortcut. Make sure it's spelled correctly, or your shortcut won't work. If the menu item's name contains an ellipsis (…), type option-semicolon (;) to create that character. Click on the Keyboard Shortcut field and press the key combination you want to use. Click on OK to save the shortcut. If the program is open, quit and relaunch it. Your keyboard shortcut will appear in the menu, and you can use it whenever you want.
If your shortcut doesn't work, a different menu item may already be assigned to those keys. (Tip: avoid using the option key.) Unfortunately, you'll be warned of problems only if you're creating a Finder shortcut. Remove the problem shortcut by scrolling down the Keyboard Shortcuts list, clicking on the triangle next to the program, selecting the shortcut, and clicking on the minus-sign (-) button. Then try another key combination. If you ever want to get rid of all your custom shortcuts, click on Restore Defaults.
Type Less
Keyboard shortcuts aren't the only time-savers available to you. For instance, you may find yourself repeatedly typing the same things—your name, street address, e-mail address, or phrases you often need when writing a report or novel. Wouldn't it be wonderful if instead of typing circumbendibus, you could just type ccm and let your Mac do the rest?
Try Text-Expansion Software With software such as Riccardo Ettore's $27 TypeIt4Me 4 or Smile On My Mac's $30 TextExpander 2, you'll never have to type out your mailing address again. These programs let you set up a shortcut for long pieces of text, and you can even include line breaks. For example, to insert your address in your text, all you'd have to type is add.
Save Time Launching Programs
When you want to launch a piece of software, you probably either click on its icon in the Dock, if the program resides there, or go to your Applications folder to double-click on its icon. (Speaking of shortcuts, when you're in the Finder, you can open your Applications folder by pressing command-shift-A.) But there are quicker ways to access your programs.
Use Spotlight The first way is to use Spotlight. In Leopard, Spotlight groups applications at the top of the results list. So for instance, press command-spacebar to bring up the Spotlight menu and type saf; you'll find that Safari is likely the top hit. If it's not, it will show in the Applications group, and you can open it without having to dig through your Applications folder. Spotlight can do this with any program, including those in your /Applications/Utilities folder.
Employ a Launcher If you're ready to become a hard-core keyboard user, you might want to look into launcher software. Three such applications in particular offer quick program access; in addition, they let you open files just by typing a few letters and even let you perform operations on files. Objective Development's $39 LaunchBar 4.3 ( ) is my favorite. It does all of the above, plus it lets you browse your Mac's files from its own menu, run commands on files, execute Google searches, run AppleScripts, and much more.
Peter Maurer's Butler 4.1.5 ( ; donation requested) and Blacktree's free Quicksilver ( ) offer a whole range of shortcuts and timesaving features. For example, you can create pop-up Web search boxes to search any site from anywhere, control iTunes playback from any program, use multiple Clipboards, or create pop-up menus that let you navigate any Finder folder from any application. It's worth trying them out to see what they can do for you, and especially to discover the dozens of features each of these programs offers.
Make the Keyboard Your Friend
All of these strategies will help you keep your hands off your mouse. You may well find that you get more done in less time when you learn everything you can do with your keyboard.
[Kirk McElhearn writes about more than Macs at Kirkville.]