Liberté, egalité…iPhoné! Orange, the exclusive (or, if you prefer, exclusif) provider of iPhone service in France, has announced the details on their pricing plans for the new iPhone 3G (PDF link) when it's released next month. If you're looking to sign up for iPhone service en France, here's what you'll be seeing for your options.
The 8GB model will sell for €149, while the 16GB will cost €199. Those prices presume that you are signing up for Orange for iPhone, Origami Star (at least 3 hours), First, or Jet plans. For other plans, the phones' prices will get jacked up €50 apiece (except for time-cutoff and pay-as-you-go plans). These only apply to consumer plans—business plans will work differently, and will launch on July 17.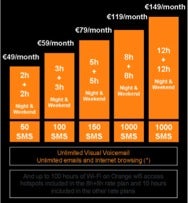 The Orange for iPhone plans appear to remain the same as previously: you have your choice of plans starting at €49/month (2 hours, 2 hours nights and weekends, and 50 SMS messages) and going all the way up to €149/month (12 hours, 12 hours nights and weekends, and 1000 SMS messages). All plans include Visual Voicemail and sort-of unlimited web surfing and data access (I say "sort-of" because Orange imposes a "fair use" cap of 500MB). They also throw in at least 10 hours of free access to Orange Wi-Fi hotspots for all plans—the 8 hour plan gets another 90 hours thrown in (as, presumably, does the 12 hour plan?).
Orange is also offering a couple of upgrade paths. If you're partaking in the Orange loyalty upgrade program, the 8GB iPhone 3G will cost you €199 and the 16GB will run €249, requiring a 24-month contract in either case. However, if you bought an iPhone before June 12th of this year along with an Orange plan (time-cutoff, Initial, and Mobicarte plans excepted), you can pick up an 8GB iPhone for €99 (via a €100 refund)—this too is subject to a 24-month contract, and is also available to Orange Business Service customers.
A lot of details to keep track of, to be sure, but I have to say that I feel much better about my own cell phone plan after seeing how expensive it is to have an iPhone in France.
[Hat tip: Arnaud at Mac4Ever.com]