At a Glance
Expert's Rating
Pros
Fun UI and slideshow features
Excellent 3-inch LCD
Cons
Image stabilization not always effective
Our Verdict
In the realm of $200 cameras, Sony's Cyber-shot DSC-W230 distinguishes itself from the pack with a beautiful 3-inch LCD screen, a wide-angle lens, great in-camera features, and easy-as-pie access to scene modes.
The 12-megapixel DSC-W230 is well-constructed and looks sharp, too. It's available in four colors: blue, black, red, and silver. Its 4X optical-zoom Carl Zeiss lens offers a 30mm film equivalent on the wide-angle end, with 120mm on the telephoto end.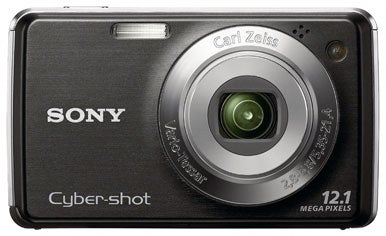 One thing I liked about the design, apart from pure aesthetics, was the mode dial on the back of the camera. Rather than having to dive into the on-screen navigation, the dial provides instant access to 10 modes such as Smile Shutter, Intelligent Scene Recognition, Auto, High ISO, and Easy Shooting, which includes basic on-screen primers as to which settings are being selected.
The star of the show on the back of the camera, however, is the 3-inch-diagonal LCD: It's very sharp and very bright, and has great resolution. Joining the display on the back of the DSC-W230 are the aforementioned mode dial, a playback button, a four-way directional pad for navigating on-screen menus (the pad also doubles as one-press controls for the LCD's brightness, macro mode, flash, and timer), a dedicated menu button, and a home button. That's a lot of controls, but they're spaced nicely and are easy to use, even for big hands.
Also on the back is the zoom control rocker, which you'll either love or hate. The zoom controls work well, but some may prefer the more-traditional ring-around-the-shutter-button kind of control. Whatever your preference, keep in mind that the DSC-W230, like most other point-and-shoot cameras, can't zoom while in movie mode. (The DSC-W230 shoots 640 by 480 MPEG-4 video at 30 fps.)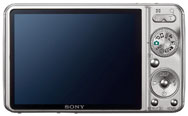 Pressing the menu button brings up quite a slew of options for a camera in this price range, including exposure settings, two metering modes, seven preset white-balance options, black-and-white and sepia filters, face detection, and ISO adjustments up to 3200. These menu selections are contextual, as well: depending upon which mode is selected with the mode dial, different adjustment options appear when you press the menu button.
One nice option in the Program Auto mode, for example, is the ability to shoot three shots in rapid succession at different white-balance settings. You can then review the images and pick the shot that offers the look that you like best.
Yet another appealing touch is the DSC-W230's slide-show feature, which lets you add your own music or select from eight preset music tracks while you play back images on the LCD screen.
The camera has plenty of juice to operate all that stuff, too. In our battery testing, the W230 took 310 photos on a single charge of its rechargeable lithium ion battery, earning it a battery life score of Very Good.
Jury tests
| | |
| --- | --- |
| Image quality | Good |
| Color quality | Good |
| Flash quality | Fair |
Scale = Superior, Very Good, Good, Fair, Poor
The DSC-W230 also has optical image stabilization, but it didn't appear to work as well as the stabilization systems we've seen on other point-and-shoot cameras having a similar price. It did produce clear images when the camera was shaken subtly, but shaking the camera harder while shooting photos produced some blurry images.
In our lab jury evaluations, the DSC-W230 earned an overall image quality score of Good. Color accuracy and low levels of distortion were strong suits, but the W230's flash didn't do a great job of lighting entire scenes evenly. Flash exposure quality was a weak spot.
As with most Sony point-and-shoots, the camera employs a couple of proprietary formats you'll have to think about. The DSC-W230 uses Sony's MemoryStick cards as a storage medium, and the included USB cable has a proprietary connector on the camera's side.
Specifications
| | |
| --- | --- |
| Resolution (in megapixels) | 12.1 |
| Optical zoom/focal length (35mm equivalent) | 4x/30mm-120mm |
| Battery type | Rechargeable lithium ion |
| Media Slots | 1 (Sony Memory Stick) |
| Size (width x height x depth, in inches) | 3.7 x 2.3 x 0.8 |
| Weight (in ounces) | 5.6 |
Macworld's buying advice
All in all, the Cyber-shot DSC-W230 offers a great bundle of features for the price, as well as a great LCD and a wide-angle lens. Its image quality was acceptable, but we've seen like-priced cameras that produce better results.
[Tim Moynihan is a senior editor for PC World.]