Apple's white earbuds, included with every iPod, are pretty good as far as earbuds go. The iPhone version even features a microphone for phone calls, and a button for basic playback control. But if you're still using those included earbuds, you're not enjoying your iPod to its full sonic potential—a new set of headphones is probably the most rewarding iPod upgrade you can make. To help you find the perfect set, here's a quick rundown of the different types of headphones on the market, the pros and cons of each type, and some of our favorites at various prices.
Earbuds
Earbuds, the type of headphones included with every iPod and iPhone, sit loosely in your outer ears. Although earbuds don't produce outstanding sound, they're compact and relatively inexpensive.
Recommended Models
In-Ear-Canal Headphones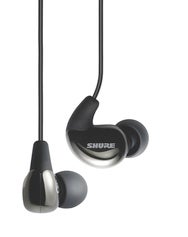 These headphones, also known as canalphones, fit snugly—and fairly deep—in your ear canals. Like earplugs, they block most external noise, so they're great for travel and noisy environments. They're also capable of producing stunning audio quality. On the other hand, some people find them uncomfortable, and the best ones come with an equally stunning price tag. (For more information on in-ear headphones, see our primer.)
Recommended Models
Canalbuds
Ultimate Ears Super.fi 4
Halfway between earbuds and in-ear-canal headphones, canalbuds don't block as much external noise as, and can't match the performance of, good in-ear-canal headphones. But canalbuds tend to be more comfortable than true canalphones—because they don't sit so deep and don't fit so tightly in your ear canals—and are usually less expensive.
Recommended Models
Lightweight Headphones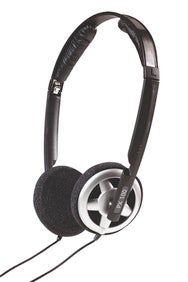 These portable and generally reasonably-priced headphones use larger drivers (speakers) than earbuds and canalphones, and have earpieces that rest against the outside of the ear. Some have a thin headband that goes over or behind the head; others use a small clip for each ear. For easier traveling, many also fold up. Although most lightweight headphones produce mediocre sound, there are a number of standouts.
Recommended Models
Full-Size Headphones
If you don't mind some extra bulk, good full-size headphones, which often fully surround your ears, generally sound better than good lightweight models. Some are also much more comfortable. These headphones fall into two categories: closed models, which block out some external noise, and open models, which some people prefer sonically, but which also let more noise in and out. One caveat: to reach their potential, many full-size headphones require more juice than an iPod or iPhone's headphone jack can provide; the models listed here all work well when run directly from your portable player.
Recommended Models
Noise-Canceling Headphones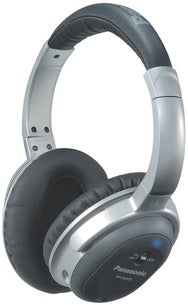 If you're not a fan of in-ear phones, but you want something that can filter out external noise such as airplane engines, train rumblings, the hum of a crowd, or the buzz of a room full of computers, invest in a good pair of noise-canceling headphones. These headphones—which come in both lightweight and full-size models, with the latter offering better noise isolation—sample outside sound and then pipe in an inverse audio signal to "cancel out" a good deal of monotonous sound. Although they don't usually sound as good as comparable in-ear phones, they're easier to put on and take off, and they still let you hear what's going on around you. (For more on noise-canceling technology, see our roundup of noise-canceling headphones.)
Recommended Models
iPhone Headphones

Maximo IP-HS2
Thanks to the popularity of the iPhone, a number of companies now sell iPhone-specific headphones with microphones and basic remote-control features built in (also known as headsets). Many offer improvements in both audio quality and microphone performance over Apple's iPhone headphones, and most use a canalbud design instead of Apple's earbud approach. (As noted above, canalbuds provide better noise isolation than earbuds; however, because they partially seal off your ear canal, like earplugs do, a phenomenon called the occlusion effect can make your own voice sound odd—to yourself—when you're talking.)
Recommended Models
iPhone Headphone Adapters
You may already have a favorite set of headphones and noticed that the original iPhone's headphone jack is recessed into the phone's body, making it all but impossible to plug in your old stand-by. The solution is to use a headphone adapter that fits into this jack; you simply plug your own headphones into the other end of the adapter.
If you just want to use your favorite headphones for listening to music, a basic audio-only adapter will do. There are many of these on the market at various price points and in various sizes. We're fans of small, flexible, and inexpensive ones; FastMac's iPhone Adapter ($4) and ifrogz's Fitz ($8), the latter available in black or white, fit the bill.
If you like the built-in controller button and microphone on the iPhone's stock earbuds, but want the better sound and comfort of your own headphones, a good number of adapters add similar call-taking and playback-control features to any headphones. As it turns out, our current favorite is also among the least expensive: Griffin Technology's SmartTalk ($20).
[Senior Editor Dan Frakes reviews iPod and audio gear for Macworld.]