Are your vacation snapshots stuck in a rut, with photo after photo of someone standing in front of a landmark? For truly memorable pictures you can proudly show off, you need to shake things up. For example, doing something as simple as changing your camera angle can result in more-dynamic pictures. Or take it even further. For a fresh perspective on your photos, try out some of these techniques.
Go Underwater
One of the most exotic frontiers is just a splash away. Underwater photography offers a fresh, colorful array of subjects that are surprisingly accessible—no fancy camera required.
Get the Right Gear Many camera manufacturers sell waterproof housings for their cameras—often for less than $200. When shopping, make sure the housing you select is designed specifically for your camera model. Don't cut corners by purchasing one-size-fits-all rigs, which don't fit as well. Once your camera is secure in its protective housing, all you need is a mask, fins, and a snorkel to begin capturing the beauty beneath the sea—or in the pool.
Although you can find housing for SLRs, I prefer to use compact cameras for this type of photography. They're easy to pack, their housings are simple to use, and, with the right settings, you can get great shots. For the best results, use a camera with a large, bright LCD screen, which will make it easier to compose your shot underwater.
Before heading out, prepare the O-ring—and make sure to follow the directions closely. The O-ring, the rubbery gasket that prevents the housing from leaking, should be perfectly clean and lubricated with the silica gel that comes with your housing. After the shoot, rinse the housing in fresh water and let it dry completely.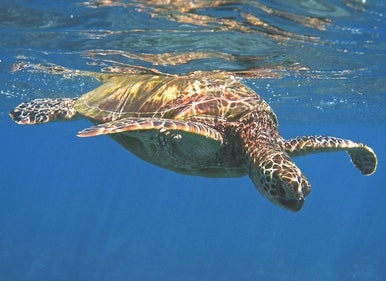 Pick Your Location Some of the best underwater photography happens around coral-laden reefs. The coral provides its own compelling compositions, plus it attracts a variety of exotic fish. And the best part is that you can often work just a few feet beneath the surface. This means you have more light at your disposal, and, even more important, you don't have to hold your breath as long.
If the area you plan to visit doesn't have any easily accessible reefs, do a little research to find a good alternative. I often check the Web sites of dive shops in the area for insider tips. Boat tours are another option. Just make sure they're going to a destination that is both to your liking and within your skill level as a swimmer.
Get the Right Settings Because of the difference in lighting, you'll want to adjust some settings on your camera before you go under. First, check whether your camera offers an underwater scene mode. This adjusts the white balance to offset the bluish cast you often get beneath the surface. If you don't have this setting, you can get similar results by manually changing your white balance setting to cloudy.
One of the biggest challenges with underwater photography is getting sharp photos. That's because not only are your subjects in constant motion, but you are as well. If your camera offers image stabilization, turn it on. Then set your ISO to 400 to speed up the shutter and help freeze motion.
Another benefit to staying close to the surface where there's more available light is that you can turn off the flash and shoot in burst mode. This gives you a quick succession of photos—and a better chance of catching a shot of fast, erratically moving fish. However, once you get beneath 10 feet or so, the flash becomes necessary, and burst mode is no longer practical (the flash can't fire quickly enough).
Cleaning Up When you return topside, keep your camera in the housing to prevent accidentally soaking it. However, don't leave it sitting unprotected in the hot sun. The clear housing serves as a greenhouse, and temperatures inside can get precariously high quickly. I usually throw a white T-shirt over the camera until I can stash it somewhere shady.
As you review your photos, don't be disappointed if they aren't spectacular yet. Underwater shots almost always need a little postproduction work to correct colors. You can use the Enhance button in iPhoto to get your images on the right track, then fine-tune with the Exposure and Temperature sliders in the Adjust palette.
Stay Dry at the Aquarium
If jumping in the ocean with a camera isn't your idea of a good time, you can still get photos of exotic fish; just check out a nearby aquarium. They often offer spectacular exhibits of undersea life. And with a little know-how, you can capture plenty of underwater magic with your camera.
Start by turning off the flash. Reflections are hard enough to battle when you're shooting through glass; you don't want to add bursts of light to the mix. Then increase your ISO to compensate for the low lights. For compact cameras, I usually keep the ISO around 400 to minimize image noise. But with a DSLR, I'll go all the way up to an ISO of 1,600 if needed. DSLRs do a better job of retaining high image quality at the higher ISO settings.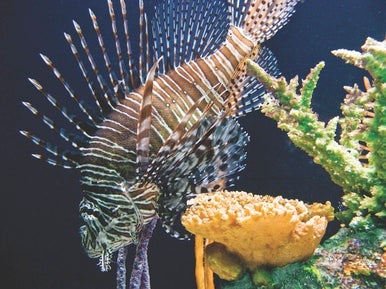 If you're shooting with a compact, check to see whether it offers an aquarium scene mode. The Canon G9, for example, offers this mode, which adjusts the white balance so your colors look more as you remembered them. (If your camera doesn't have this scene mode, then leave the white balance on auto.) Finally, set your camera to burst mode so you can take multiple photos in quick succession by holding down the shutter button.
When it's time to take the shot, gently place the front of the lens against the glass, steady the camera, and squeeze off a few shots. If you have a rigid lens hood, attach it. It will protect the front element of your lens while eliminating reflections. Never press the glass element of your lens directly onto another surface. This isn't usually a problem because the front lens on most cameras is recessed, but check to be sure.
You'll end up with a lot of bad shots when shooting in aquariums, because trying to capture moving objects in low light is challenging for digital cameras. But getting just one great shot makes the whole experience worthwhile.
Get a Bird's-Eye View
If snorkeling is an example of going low, then climbing aboard a helicopter or airplane and flying over a rugged landscape is definitely an exciting example of shooting from up high.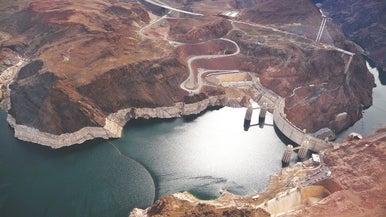 Steadying the Shot Like underwater photography, shooting from a moving aircraft at high altitudes requires some special considerations. Some cameras, such as the Panasonic TZ5, offer an aerial scene mode, which adjusts the color balance to compensate for the bluish tint you get a high altitudes, speeds up the shutter, and activates the camera's image stabilization features. If yours doesn't offer this, warm up your tones by setting the white balance to cloudy. Also remember to turn off the flash so you don't bounce light off the widow. You can further cut down on reflections by wearing dark clothing.
Getting steady shots from a helicopter can be particularly challenging. In a commercial plane, you can put the front of your lens barrel against the window and often get pretty good shots. But that technique doesn't work in helicopters because of the rotor vibration. Instead, you should hold the camera away from the glass while you shoot—using a camera with image stabilization is almost mandatory for this situation.
Fake It If planes and helicopters aren't your thing, you can still shoot from above by using tall buildings as your platform. Look for observation decks and access to rooftops. My favorite time to shoot from this vantage point is at dusk when city lights come on and there's still color in the sky. Be sure to pack your compact tripod so you can steady your camera during long exposures. Turn off the flash and activate the self-timer. The camera will do the rest.
Bragging Rights
Regardless of which of these extreme angles you choose, the goal is to add variety and drama to your travel photography. As you experiment with these techniques, you'll find that your slide shows and prints take on new life. Before you know it, people will be asking to see what you captured on your last excursion.
Derrick Story is the author of The Digital Photography Companion (O'Reilly Media, 2008) and offers weekly podcasts on www.thedigitalstory.com.