Virtual Programming on Friday announced that it will release Europa Universalis: Rome for the Macintosh on Friday, July 4, 2008. The new game will cost $39.95.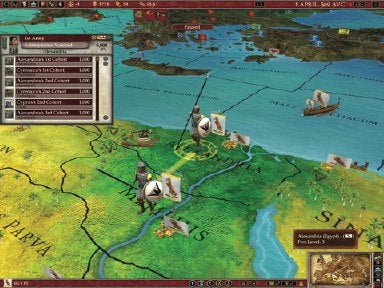 A stand-alone game based on Paradox Interactive's Europa Universalis 3 engine, Europa Universalis: Rome is a grand strategy game that puts you in the role of the leader of Mediterranean empires from a period stretching from the first Punic War to the start of the true Empire.
You can play as the leader of one of 10 different cultures, including Romans, Celts, Greeks and Egyptians, with more than 53 playable factions on a map spanning hundreds of provinces; you can trade, negotiate or fight with neighboring empires, advancing your technology. The game also features multiplayer support for up to 32 players either competitively or in co-op mode.
System requirements call for Mac OS X 10.3.9 or later, G5 or better (including Intel), GeForce 5200 or Radeon 9600 3D graphics (GMA 950 not supported) with at least 64MB VRAM, 512MB RAM, 700MB hard disk space. Online play is managed through Paradox Interactive's own Metaserver.