Cynical Peak Software has released Rivet 1.1, an update to its software that lets Mac users stream video, music and photos from their Mac to an Xbox 360 on the same network. A free update for registered users, Rivet 1.1 costs $18.95.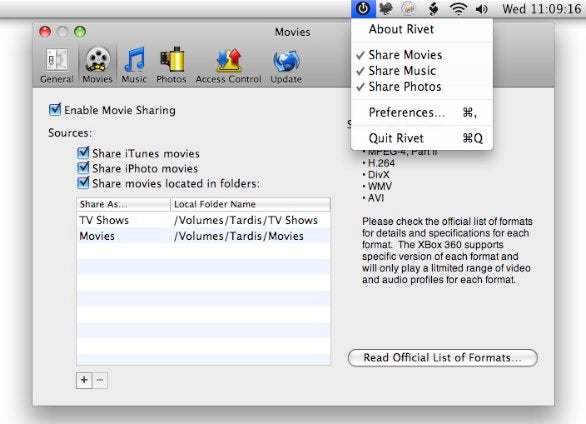 With Rivet installed on a target Mac, you can share video, music and photos with an Xbox 360 video game console — a way to get your Mac media onto the television screen even if you don't have an Apple TV. Rivet features full organizational support of your Mac media and quick automatic updating on the Xbox 360 when you add, delete or move files.
New in the 1.1 release is improved support for video podcasts and TV shows in iTunes, now sorted into subfolders based on show and season. Automatic media updating isn't as CPU-intensive, compiliation albums now show up as one album, and transcoded pictures are now "friendlier to your hard drive." Other changes have been made, too.
Rivet requires Mac OS X 10.5 or later, iTunes for music sharing, a networked Xbox 360 and 2.7MB hard disk space.