Magma has introduced the ExpressBox4, an external PCI Express expansion box designed to work with Macs and PCs. It costs $2,399.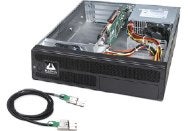 The ExpressBox 4 can accommodate up to four full-length PCI cards, each operating at x8 slot speeds. The standalone enclosure includes its own power supply, and can be rack-mounted in a standard equipment rack, occupying 2U of vertical space.
The slots are equipped to be hot-swappable. Included with the chassis is a PCI Express (PCIe) host controller card that goes into a host computer or server. Each slot can operate any combination of 1x, 4x, 8x or 16x PCI Express cards.
System requirements call for Mac OS X 10.4 or later.