At a Glance
Expert's Rating
Our Verdict
The new iPhones may be on the horizon, but that doesn't mean we've forgotten about the "old" ones. I have two current-generation iPhone cases desperately seeking attention, begging to be reviewed so they're not lost in the fray of the future. I've decided to oblige their groveling, and present for you reviews of the Incase Fitted Sleeve and the Uniea U-Suit for the iPhone.
Incase Fitted Sleeve
Sometimes you don't need exotic features, or bullet-proof plastic, or a shell that will protect your iPhone if you dropped it into a volcano. Sometimes you just want a case that does nothing more than snugly secure your iPhone to your belt, protecting it from minor bumps and bruises, and giving it a touch of style that says, "Yes, I care about how my iPhone looks," without saying, "Look everyone! I have an iPhone! And I'm willing to spend an obscene amount of money to make sure you know I have an iPhone!"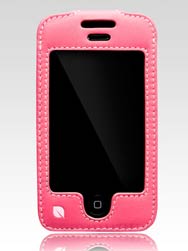 If all you want is elegance and simplicity, Incase's Fitted Sleeve fits the bill. It's nothing more than a well-fitting holster with a slick exterior (of either leather or canvas) and a smooth suede interior that doesn't splotch or scratch your iPhone.
All of the phone's features are accessible—the headphone jack, dock connector, volume controls, mute switch, on/off button, Home button—and there's a indented cutout in the back for the camera. Your iPhone slides in through the top of the sleeve, and is secured in the case with a snap-on leather strap that conveniently prevents the slipping and wobbling common with other, strap-less slide-ins.
Of course, nothing's perfect. The backs of the top corners are exposed, so dropping it on those areas—which is surprisingly common—will still damage your iPhone. The belt clip isn't removable, either; and while I haven't had too much time to test the Sleeve, the main complaint about it online seems to be that the clip loosens and weakens the more it's used. So you might want to check out user reviews at places like Apple's online store to see if that will actually be a problem for you.
Uniea U-Suit
Holding your iPhone for two hours while you're watching a movie because you're trapped on a plane, bored at a friend's house, or at Starbucks because your apartment is filthy and you'd much rather leave than clean it, can be a real pain in the rear—and the arms. That's where Uniea's U-Suit for iPhone is supposed to step in.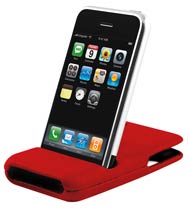 The back of the case has a removable, swiveling plastic belt clip with a swing-out flap that acts as a stand for the iPhone, propping it up both horizontally and vertically. You can watch a video (or perform almost any other extended task) without having to hold the iPhone up manually the entire time. It's a clever solution, and for the most part works pretty well.
There are a few annoyances: the stand plastic and the joint that attaches it to the belt clip are flimsy, and the stand itself is only a thin strip. All of that means it's not the sturdiest solution in the world; if you're trying to use the phone for anything that requires tapping the screen, you'll probably have to stabilize it manually with your hand, especially in its vertical position.
Aside from the stand, the U-Suit is a relatively plain iPhone sleeve. The exterior is a textured soft leather, reinforced by a hard ABS interior to protect the iPhone from impacts and cosmetic damage. All of the iPhone's ports and features are exposed and accessible—convenient, but exposing more of the device to damage and dirt. The iPhone slides in through the top and fits snugly in the sleeve—but there's no strap to secure it in, so bumping and bouncing can cause the iPhone to slowly slip out.