At a Glance
Expert's Rating
Pros
Replaceable, rechargeable battery
Several improvements over original SoundDock
Solid sound quality
Good battery performance
Cons
Expensive
Doesn't include iPod dock adapters
More transportable than portable
Lacking many features found in competing systems
Our Verdict
For those of us who follow iPod accessories, it's difficult to believe that it's been nearly four years since Bose's original SoundDock was released, making it one of first "desktop" speaker systems for the iPod. Perhaps just as surprising is that while most of the other big vendors of iPod gear have revised their speaker lines several times over that period, Bose has continued selling essentially the same SoundDock, at the same $299 price, that it released back in 2004.
So when Bose announced a new version of the SoundDock, I expected it to be a replacement for the original. Instead, Bose added a second product to the SoundDock line: the $399 SoundDock Portable. True to its name, the SoundDock Portable is in many ways simply a portable version of the original SoundDock; however, it does offer a few unique features.
Specs, improvements, and omissions
Available in either black or white with a silver front grill, the SoundDock Portable is just slightly smaller than original at 6.75 inches high by 12.06 inches wide by 6.06 inches deep when closed for travel; it weighs a hefty—for a portable system—5.23 pounds. The Portable retains the full-frontal-grill design of the standard SoundDock, but includes several aesthetic and functional changes. For starters, the Portable's dock cradle, which adopts Apple's Universal design, rotates into the body of the SoundDock for travel. Unfortunately, unlike most iPod speaker systems using a Universal dock, Bose doesn't include dock adapters for older iPods. (With the proper adapter— available from Apple if your iPod didn't include one—the SoundDock Portable works with all dockable iPods back to the original iPod mini. The iPhone is also compatible, although you may experience audible interference if you don't put the iPhone in Airplane Mode.)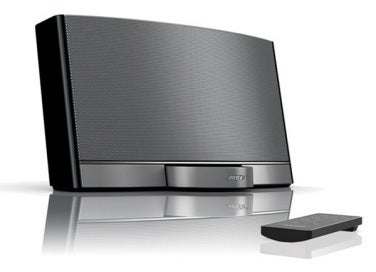 The Portable also includes touch-sensitive Volume Up and Volume Down buttons, located on the right-hand side of the system. Separating these buttons from the dock cradle, where they were located on the original SoundDock, is useful thanks to another new feature: an auxiliary-input jack, located on the back of the unit, that lets you connect another audio device. You can listen to an external audio source even if the Portable' dock cradle is collapsed inside the unit; in fact, to listen to a source connected to the auxiliary input, you need to first remove your iPod or iPhone from the cradle. Also on the back of the system is a bass port that doubles as a handle—a nice touch that makes it easier to carry the system.
But the biggest new feature is the Portable's rechargeable, lithium-ion battery, which lets you take the system to locations not blessed with electrical outlets. Bose claims the battery provides three hours of playback at full volume—an interesting approach to rating, given that most vendors provide battery-life figures based on "typical listening volume" (a euphemism that generally means "not too loud"). To Bose's credit, when listening to an audio system outside, you need to crank the volume considerably higher than you do inside to get a comparable listening level, so the company's worst-case-scenario estimate errs on the conservative side. But I never needed to turn the volume full-blast when outside, which means I saw much longer playback times in my testing. If you'll be listing at relatively-modest levels, you can expect well over 10 hours of playback.
Interestingly—and unlike most portable iPod speaker systems—the SoundDock Portable charges your iPod or iPhone even when the system is running off battery power; most speaker systems charge your iPod or iPhone only when the system is connected to AC power. The battery is also easily replaceable; you need only a small coin to unlock the battery and swap it with a fresh one. Bose sells replacement batteries for $89.
A small light, located behind the metal grill just above the Portable's iPod dock, indicates various statuses—powered on, charging, low battery, and more—depending on the light's color and whether it's solid or blinking. This indicator is useful, but I found it difficult to remember what the various colors and states meant.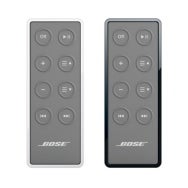 The Portable's remote control is much better than that of the original SoundDock. Instead of a flat, credit-card-sized model with bubble-style buttons, the new version is shaped more like a traditional remote—longer, narrower, and thicker—and uses a rubber-covered face with buttons that provide good tactile response. In addition to the basic Power, Play/Pause, Back, Forward, Volume Up, and Volume Down buttons, you also get a pair of useful buttons for switching to the previous and next playlist. Unfortunately, there's no place on the SoundDock Portable to store the remote for travel.
Finally, the SoundDock Portable's AC adapter, a 3.2- by 3.2- by 2.2-inch block (not including the wall plug, which protrudes from the block), is much smaller than that of the original SoundDock and includes a built-in groove for wrapping the cable for travel. However, the adapter is still bulky, and because it's so wide, I found it challenging to plug into some outlets—especially the crowded ones on a power strip or surge protector.
Given the SoundDock Portable's high price, it's worth noting that the system is missing a number of features found on many other portable/transportable iPod speaker systems. For example, it doesn't provide video output for watching iPod/iPhone-hosted video on a TV, nor do you get a USB connection for syncing your iPod or iPhone with your computer. Also missing is a carrying case, which I found odd considering that several excellent portable systems that sell for much less include a protective case. (Bose sells a soft-sided carrying bag for $59.) And several iPod speaker systems that sell for less than the Portable offer a radio tuner and/or tone controls.
A tweener
The SoundDock Portable produces solid audio quality for the system's size. Bose claims the Portable offers improved sound quality over the original SoundDock; in my direct comparison, the Portable did provide better bass response, and sounded better at the loudest volumes, but the original provided slightly-better treble detail. Overall, however, the two systems sound very similar; if you liked the sound of the original, you'll like this one. The Portable can fill a bedroom or office with enjoyable audio, including decent upper-bass response, and I liked the fact that the SoundDock Portable's audio performance didn't degrade when I switched to battery power. On the other hand, like most one-piece systems with the left and right speakers so close together, there's little stereo separation.
That said, when it comes to audio, the SoundDock Portable is in a tough spot. First, it's a "tweener." It's bigger and heavier than most speakers we call portable—you can't easily stick it in your laptop bag, backpack, or carry-on—but it's not big enough to compete, sound-wise, with the better transportable systems (those that can run off batteries but are more suited to lugging from room to room or from the car to the house). Second, at nearly $400, the SoundDock Portable is simply expensive for the audio experience it provides.
Macworld's buying advice
The SoundDock Portable retains the original SoundDock's main appeal: simplicity. Take it out of the box, plug it in, dock your iPod, and you get good audio in an attractive package. It's just that now you can take that audio to the back yard, and you get a number of useful improvements. However, at more than 5 pounds, and with a relatively bulky profile, the SoundDock Portable isn't what I'd call truly portable; it's a "tweener" product best-suited for someone with "tweener" needs—a battery-powered iPod speaker system that sounds better than most truly portable speakers, but isn't as big as most transportable speakers.
The bigger challenge for the SoundDock Portable is that while it improves on the original SoundDock, the competition has gotten better—and less expensive—as well. At $399, $100 more than the already-pricey-for-the-performance original, the Portable is more expensive than a number of iPod speaker systems that offer better performance, true portability, or more features.