At a Glance
Expert's Rating
Pros
Fast
Accurate
Not a resource hog
Cons
Nonstandard user interface
Pricey
Our Verdict
VirusBarrier X5 (version 10.5.2) bills itself as simple, fast, and nonintrusive, and it certainly lives up that billing, with the notable exception of the program's nonstandard interface. But VirusBarrier's speed more than makes up for all its shortcomings. This antivirus program scans files very quickly and, perhaps more important, with very little impact on your Mac's resources.VirusBarrier has two ways of scanning your Mac: real-time and manual. The real-time scanner constantly scans your Mac's files in the background, but it didn't slow down my test Mac (a 2.16GHz Intel Core Duo MacBook Pro) in the slightest. The manual scan is a little more resource intensive, but I hardly noticed it running while I went about my business.
Installing VirusBarrier and its companion program, Netupdate, is simple enough. Intego recommends that you install Netupdate first, which ensures that all Intego applications and virus definitions are up-to-date. Once you restart your Mac, you'll notice two things: a menu-bar item and the VirusBarrier X5 icon in the Dock. Both are useful additions, but it would be nice to have the option to omit them during the initial install.
Nonstandard interface
After launching VirusBarrier X5, you're greeted with a rather odd item called the Orb, which Intego has tweaked in this version: it's a little larger than it was in version 4 ( ), and it's flanked by six spherical instrument panels and a large Scan button. It is unlike any interface I have ever seen in a Mac program. The interface may look alien, but it's very easy to use. You can see at a glance how much of your Mac's processing power VirusBarrier is using, what mode it is in, the number of scheduled scans you have programmed, and more. (VirusBarrier has three modes: Interactive, in which you decide what to do with suspect files; Repair, which automatically tries to repair virus-laden files; and, new in X5, Put In Quarantine Zone, which moves those naughty files to a restricted area where they can't be opened or activated). Along with the revamped interface, VirusBarrier X5 adds the ability to schedule multiple scans at one time, enables Trusted Zones (locations on your Mac that it excludes from automatic scanning), and lets you opt to not scan your Mac for Windows viruses.
VirusBarrier performed well. It found all the test viruses on my Mac, including some Windows-only viruses; logged everything; and dealt with the test viruses quickly and appropriately.
Every VirusBarrier X5 license includes a one-year subscription to Intego's virus update service, though you have to enter an e-mail address and create a password in NetUpdate before you can update your definitions.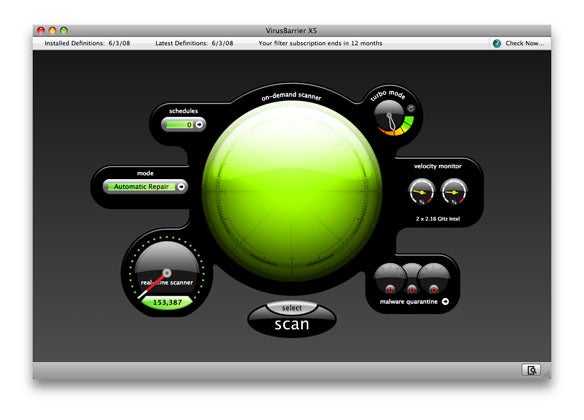 Macworld's buying advice
If you're in the market for a fast-working antivirus program, VirusBarrier X5 (10.5.2) is the gold standard. It will protect your Mac without making your other work grind to a halt. Given that the upgrade price is only $25 more than renewing your virus-definition subscription, which you no doubt will have to do if you have an older version of the program, X5 is well worth the money. The Quarantine Zone offers an added layer of security that in itself is worth the upgrade.
[Scott McNulty is a full-time geek living in Philadelphia. He is the lead blogger at The Unofficial Apple Weblog and cohosts the cooking podcast Fork You.]
[Editor's Note: This review was updated on 7/9/08 at 4:06 p.m. to remove the e-mail notification reference. VirusBarrier does not notify users of virus definition updates via e-mail.]