We've heard the plans for Canada, France, and others, but what us folks here in the United States? What kind of deals will we be getting when it comes time to grab our cell phone service from AT&T? Well, wait no longer: AT&T has dropped details on all its iPhone pricing plans; here's the skinny.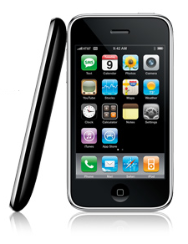 As expected, the plans are basically $10/month more than their predecessors (plus, of course, all the usual attendant taxes and fees). So, for $70/month, you snag 450 Anytime minutes and 5000 Night & Weekend minutes; $90/month gets you 900 Anytime minutes and unlimited Nights & Weekends; $110/month will include 1350 Anytime Minutes, and Unlimited Nights & Weekend; and for the truly talkative, you can snag Unlimited Anytime minutes for $130/month. All plans include unlimited data, Visual Voicemail, Rollover minutes, and unlimited Mobile to Mobile minutes. Overage charges vary from $0.35 to $0.45, depending on the plan.
Need more than one line? No problem: you can snag an AT&T FamilyTalk plan, which includes two lines, starting at 700 Shared Anytime minutes for $130/month and going up to 6000 shared Anytime minutes for $360/month—and you can get up to 3 additional iPhone lines for $40 per line. There's also an unlimited minutes FamilyTalk for $260/month, though each additional line will then cost you $130. Like the individual plans, these will come with unlimited data, Visual Voicemail, Rollover minutes, unlimited Mobile to Mobile, and also unlimited Nights & Weekends.
As rumored, text messages are no longer included in the bundle—boooo—so if you plan to some SMSing, you'll need to spend a little extra. AT&T offers three plans for individuals: 200 messages for $5/month, 1500 messages for $15/month, and unlimited texting for $20/month. FamilyTalk plans can pay $30/month for unlimited text messages. If you pay per use, it will cost you an astounding $0.20 per text message.
As many people— my colleague Dan Frakes included—have pointed out, the increase in prices means that despite the touting of the iPhone 3G as cheaper than the original iPhone, the total cost of ownership actually ends up being more expensive over the course of the two-year contract. Now you know: and knowing is half the battle.