Dare to be Creative on Tuesday introduced ResizeMe 1.0, a batch image and photo editor for Mac OS X. It costs $19.95. A 10-day trial version is available for download.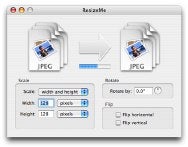 ResizeMe can resize, scale, rotate and flip images. It handles popular formats including JPEG, PNG, TIFF, PDF, JPEG-2000, SGI and TGA. The software sports a drag and drop interface, and can manage self-updates. You can configure ResizeMe to batch-change a number of documents, and the software preserves EXIF metadata that might be embedded in the document.
System requirements call for Mac OS X 10.4 or later.