You've got questions, we've got answers (no disrespect to RadioShack intended). Besides releasing rate plan details, AT&T has also posted answers to some of the lingering queries that new and existing AT&T customers might have about snagging themselves an iPhone 3G. Here are a few that we hope will answer questions that readers have frequently been asking us.
So the iPhone costs $199 or $299, right?
Sure, Steve Jobs has touted the $199 price tag for the iPhone 3G, but as with anything where a non-Apple company is involved, the truth is not quite that straightforward. If you're a new customer to AT&T, you will pay $199 for the 8GB model or $299 for the 16GB model, as long as you also sign up for a 2 year contract.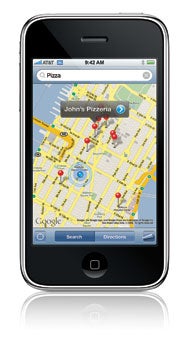 If, however, you are an existing AT&T customer, the price you pay for an iPhone 3G will depend on other factors. If you bought an iPhone before July 11th or you are eligible for an upgrade discount at the time of purchase (check your My Account page AT&T's website to find out if you qualify), you can also take advantage of the $199/$299 pricing. Otherwise, you can purchase an "early upgrade" which will run you $399 for the 8GB or $499 for the 16GB model. Both of those cases will require you to extend your current contract for another two years, and you'll have to pay an $18 upgrade fee to boot.
Just anecdotally, let me add this: I switched to AT&T from Verizon for the iPhone last year and signed up for a two-year contract. My account page says that I am indeed eligible for an equipment discount, so if you're in a similar boat to me—and I suspect that many of you are—you may qualify for the cheaper pricing.
Can I get an iPhone without signing up for a two-year contract?
No. Well, not yet anyway. According to AT&T, a "no-commitment" version of the iPhone 3G (perfect for those of us with commitmentphobia) is "coming soon", and will run $599 for the 8GB model and $699 for the 16GB model. Yowch.
What about prepaid plans? Can I sign up for one with the iPhone 3G?
'Fraid not. According to AT&T's cutely named iReady checklist (PDF link), prepaid plans are not available for iPhone 3G.
I want to buy iPhones for me, my dog Ralphie, and my Aunt Marge; can I do that?
Nyet. AT&T says you may purchase only 1 iPhone per person in line. Your Aunt Marge and Ralphie will have to wait in line for their own.
If I buy a new iPhone 3G, how do I transfer data from my old iPhone?
Fortunately, iTunes will take care of that. Make sure you sync your existing iPhone with iTunes before trying to sync your new phone so that all your data is current.
Will my new iPhone 3G be able to retrieve my existing voicemails?
Apparently not. AT&T says "Check and clear your voicemail. Any existing voicemail messages will be lost once your new phone is activated." So if you were hoping to retain that hilarious message your friend sent you from their bachelor party, you might want to find some other way of recording it.
What do I do with my old iPhone once I've got my shiny new iPhone 3G?
Well, whatever you want, really. You can hand your old phone off to your friend or family member who can then activate it themselves via iTunes. AT&T provides full details for how to do so in this PDF. If you decide not to pass your old phone on, here are some suggestions for what to do with your old unit.
Alternatively, there are software programs out there that will probably let you turn it into a pretty functional iPod touch.
Updated at 1:23PM ET with information from AT&T about upgrade conditions for existing AT&T customers.