At a Glance
Expert's Rating
Pros
Ships formatted for Mac
Bus-powered
Capacity gauge
Attractive design
Cons
No software bundle
Proprietary FireWire cable
Our Verdict
Western Digital's My Passport Studio is a portable hard drive that's bus powered—it doesn't include a power adapter. The drive ships in a Mac-friendly format, and works with Leopard's built-in disk back up utility, Time Machine.
The drive uses either a USB or FireWire 400 port on your Mac. The My Passport Studio has a mini FireWire 400 port (a design element I'm not fond of), and this port requires a proprietary cable that has a standard FireWire 400 connector on one end for connecting to your Mac, and a two-headed cable on the other end that connects to both the mini FireWire port and the mini USB port on the hard drive. The cable works fine, but since the My Passport Studio is a portable drive, it means you're mobile; being mobile increases the chances of leaving the cable behind or losing it. And the two-headed cable isn't a common cable you'll find at your local computer electronics store.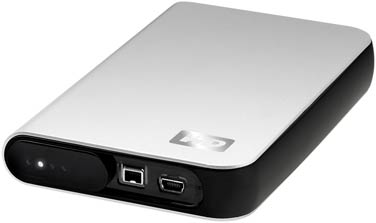 You can resort to USB if you don't have the special cable. If your USB port provides enough power, the drive can run off of USB power. If your USB port doesn't provide enough power and you have a pair of USB ports available on your Mac or USB hub, you can use Western Digital's optional USB 2.0 Power Booster Cable ($10), which has a single mini USB jack on one end that connects to the hard drive, and a pair of USB jacks on the other end for connecting to a pair of USB ports. However, USB 2.0 performance is slower that FireWire 400, up to 15 percent slower in some of our tests.
As is the case with most portable hard drives, the My Passport Studio's drive mechanism spins at 5,400 RPM, slower than the 7,200 RPM that most desktop drives run at. Other portable drives include FireWire 800 or eSATA connections to speed up performance, but the My Passport Studio includes only FireWire 400 and USB 2.0. That said, the drive's performance results were respectable, taking 46 seconds to copy a 1GB folder from the internal hard drive to the My Passport Studio via FireWire 400.
The hard drive's design is compact and attractive; it looks like an aluminum pocket planner. The drive features a sliding port cover that doubles as a four-light capacity gauge and activity light. To use the capacity gauge feature, you'll need to install Western Digital's Drive Tools utility, the only software that ships with the drive. Western Digital doesn't include any disk utility software or a backup program.
Timed trials
| | |
| --- | --- |
| Copy 1GB file to FireWire 400 | 0:46 |
| Copy 1GB file to USB 2.0 | 0:53 |
| Duplicate 1GB file via FireWire 400 | 1:15 |
| Duplicate 1GB file via USB 2.0 | 1:22 |
| Low-memory Photoshop: FireWire 400 | 2:31 |
| Low-memory Photoshop: USB 2.0 | 2:34 |
Times are in minutes:seconds
Specifications
| | |
| --- | --- |
| Price per gigabyte | $.69 |
| Connectors | FW400 (1), USB 2.0 (1) |
| Rotational speed | 5400 rpm |
| Other capacities | 250GB, 160GB |
Macworld's buying advice
The My Passport Studio is no speed demon, but does offer decent capacity and performance in an attractive, slim design. Though I prefer a standard FireWire 400 port and cable over the drive's mini FireWire 400 port and two-headed cable, the My Passport Studio is a fine choice for those looking for a stylish drive for file backup and portable storage.
[James Galbraith is Macworld's lab director.]