Macessity has introduced its Slimkey V2 stand, a new version of its aluminum stand for the Macintosh. It costs $64.99 and will ship on July 21, 2008.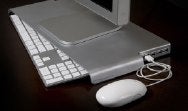 The Slimkey V2 is a slim stand for iMacs and Apple displays. Finished in powdered aluminum, similar to the finish on Apple's pro line of Macs, the stand lets you slide an Apple aluminum keyboard underneath when not in use. It supports up to 35 pounds.
The device also incorporates a four-port USB 2.0 hub into its side,
Note: When you purchase something after clicking links in our articles, we may earn a small commission. Read our affiliate link policy for more details.