So outrageously popular were yesterday's answers to many of those popular questions prospective iPhone 3G buyers are clamoring about, that we've decided to provide you with a second installment, this one covering a few questions that an AT&T spokesperson graciously took the time to answer, just for us (and, by extension, you).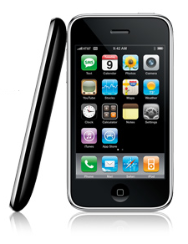 Of course, this isn't an exhaustive list by any means—we're sure you'll have more questions on the way, and we'll endeavor to answer what we can, and find answers (Indiana Jones-style, if necessary) for those that we don't know. Without further ado, here we go.
Can I add an iPhone 3G to an existing FamilyTalk plan?
Heck yeah, you can.
How about adding an iPhone 3G to an existing FamilyTalk plan…that already has an original iPhone on it?
Sure, no problem! Anything for family.
So, say I have an original iPhone, and I buy an iPhone 3G.
That's not really a question, but you intrigue me. Go on.
If I give my iPhone away to a friend, family, or stranger on the Internet with lots of money, and they activate it, will they have to use the new iPhone 3G data plans, or can they still sign up for the same original iPhone plans?
That's quite a long question, but the answer is clear: the existing plans for the original iPhone (i.e. the $20 unlimited data plan) will still be available to those using the original iPhone plan. AT&T will not force you into using the 3G data plan—which, frankly, makes sense, right? I mean, that would be evil.
So what's the deal with that no-commitment option for the iPhone? It's not an unlocked iPhone, is it?
Indeed not. The "no-commitment option" that AT&T is providing, whereby you pay $599 for the 8GB iPhone 3G or $699 for the 16GB iPhone 3G, basically allows you to snag an iPhone without the 24-month contract. But you're still pretty much tied into getting an AT&T plan if you want to use it as a phone; you won't just be able to pop in a T-Mobile SIM card. However, should you wish to cancel that AT&T plan, you will not have to pay an early termination fee, since you have no contract.