Got Game Entertainment has announced the forthcoming release of MindHabits for Mac OS X and Windows. The new game costs $19.99 and will be released in August.
MindHabits, based on research done by Dr. Mark Baldwin of Montreal's McGill University, purports to help you maintain a more positive state of mind tht can result in reduced stress, improved self-confidence, less exam anxiety, better work performance and more, according to the developer.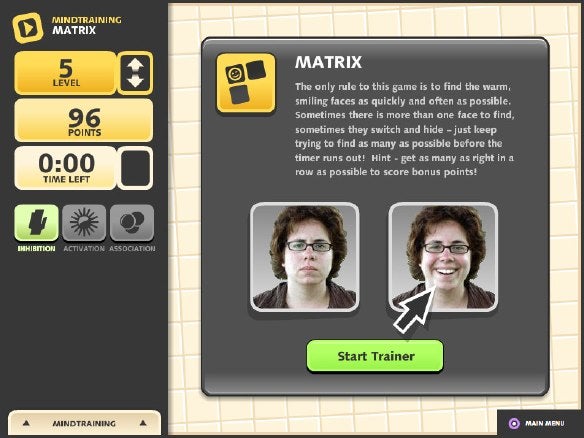 If that sounds like a lot to swallow, the software incorporates measurement tools to help you gain and maintain a more positive frame of mind using what the developer says are proven scientific techniques — trying to find smiling faces in a crowd of frowns, for example, which can help train your mind to react to positive information. Word challenges in MindHabits likewise reinforce positive personal associations.
MindHabits sports 200 levels of play in four core games, and provides daily tracking of results and measurement of progress over time. Customizable male/female-only options are available, and the game play adapts to your skill level.
A version of MindHabits has already been released for online download; Got Game Entertainment says its boxed version will have double the levels and game playing time.
System requirements were not posted as Macworld posted this article.