At a Glance
Expert's Rating
Our Verdict
[Editor's note: The following review is part of Macworld's GemFest 2009 series. Every day until the end of June 2009, the Macworld staff will use the Mac Gems blog to briefly cover a favorite free or low-cost program. Visit the Mac Gems homepage for a list of past Mac Gems.]
Mac OS X offers robust support for uncompressing file archives in a wide variety of formats, but it doesn't support all archive formats. You also can't use OS X's tools to selectively extract files from an archive—it's an all-or-nothing action.
Zipeg is a free utility that's useful to keep around as a complement to OS X's built-in features. For starters, Zipeg supports zip, 7-zip, rar, BZip2, GNU zip, tgz, tar, arj, LHA/LZH, LZC, cab, chm, ear, war, cbr, and cbz archive formats. The program also supports multi-part archives; just open the first part in Zipeg, and as long as the other parts are in the same folder, Zipeg will automatically unpack them as well.
But the feature that will make Zipeg appealing to many Mac users is the ability to preview the contents of an archive and extract only those files you want or need. Just drop an archive onto the Zipeg icon, or use the Open command, and Zipeg displays the contents of that archive to the right. If the archive contains subfolders, clicking on a folder displays that folder's contents. Select the files you want to extract and click on the Extract button. Zipeg will extract those files and save them to the location you've chosen in the program's preferences: on the Desktop, in your Documents folder, in the same folder as the original archive, or in the last destination you used.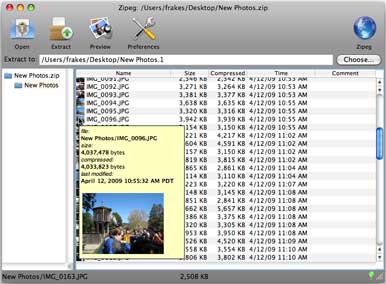 Want to know more about a particular file before deciding whether or not to extract it? Hold the mouse cursor over it; after a short delay, a tooltip will appear providing more info, including a preview if the file is an image. If the pop-up preview isn't large enough, or if you want to preview a non-image file, select the file and click on the Preview button. This opens the actual file in whatever your default application is for that file type.
Zipeg includes multilingual support, and you can configure the program to be the default application for any or all supported archive formats; this allows you to double-click on any archive and have it open in Zipeg.
Zipeg's not the most beautiful program out there—its windows feel a bit kludgy—and it's not as full-featured as the excellent BetterZip, but it works well. And it's free.
Want to stay up-to-date with the latest Gems? Sign up for the Mac Gems newsletter for a weekly e-mail summary of Gems reviews sent directly to your inbox.
Our 186-page Mac Gems Superguide is a veritable greatest hits of Mac Gems. It's available as a PDF download, PDF on CD-ROM, or as a printed book. Learn more about the Mac Gems Superguide.
[Dan Frakes is a Macworld senior editor.]