Stevens Creek Software, which up to now has focused on developing software for Palm OS handhelds, is turning its attention to the iPhone with three new applications. All three applications are planned for release the day that Apple's App Store goes online, on July 11th. Pricing was not announced.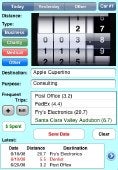 The company's first three products include TripLog/1040, a mileage tracking tool that keeps track of mileage, destination, purpose and costs to help you manage tax-deductible mileage logging. It can "memorize" frequently-taken trips, provides total mileage driven for selected time periods and can e-mail the log.
The Athlete's Calculator is the iPhone implementation of a software app that Stevens Creek Software previously created for Palm OS. It can perform calculations of time, distance and pace or speed, performs arithmetic calculations, such as adding up "splits" to produce a total time, and handles both English and metric units and distance conversions.
Handy Randy is a random number generator that can select random numbers from up to three unconnected ranges. It can select numbers in pairs, choosing a random number first from one range and then another. Practical applications for Handy Randy run the gamut from games to picking lottery numbers, performing business audits or handing out prizes at events.