Ahh, Sweden: the land of meatballs, Ingmar Bergman, and IKEA. And, until recently, a country whose citizens were displeased about the cell phone plan offerings that local carrier Telia Sonera was offering for the iPhone 3G.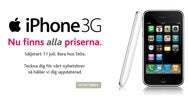 Telia Sonera had put forth three separate plans, dubbed the iMini, iMidi, and iMaxi. The iMini ran for the 299 kr/month (~$50) with 100 minutes, 100 SMS messages, and 100 MB of data; the iMidi for 489 kr/month (~$83) with 250 minutes, 250 SMS messages, and 250 MB of data; and the iMaxi for 859 kr/month (~$145) with 1000 minutes, 1000 SMS messages, and 1000MB of data. On top of which, if you wanted an unlimited data plan, you had to shell out an additional 199 kr/month (~$34).
The Swedish people were not too taken with that idea, and so they complained. A lot. As a result, Telia Sonera has now made their existing cell plans available to those who plan to purchase an iPhone 3G, meaning that you can choose from a variety of offerings that start as low as 99 kr/month (~$17), to which you can add that same 199 kr/month unlimited data plan.
A similar petition is underway for Norway's NetCom, whose plans were revealed earlier this week and efforts to get Canada's Rogers Wireless to alter their plans are still progressing.