At a Glance
Expert's Rating
Our Verdict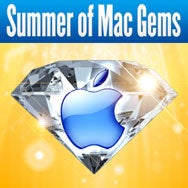 Editor's note: The following review is part of Macworld's Summer of Mac Gems series. Each business day until the middle of August 2008, the Macworld staff will use the Mac Gems blog to briefly cover a favorite free or low-cost program. Visit the Mac Gems homepage for a list of past Mac Gems.
Ever record a video on your point-and-shoot camera while holding the camera in portrait mode? Your recorded videos are still in landscape mode, so your videos are tilted sideways.
To rotate your videos to the proper position, you could pay $30 for QuickTime Pro—but you should also consider TransformMovie 1.1. Unlike QuickTime Pro, TransformMovie lets you rotate movies from 1 to 360 degrees; rotating in anything other than 90-degree increments results in a black frame around your movie, which can be an artsy effect.
TransformMovie also lets you flip video images horizontally or vertically, or scale them up or down