Google has chosen to blur the faces of people caught on camera by the French edition of its StreetView service.
StreetView is an enhancement to Google Maps, allowing users to navigate through a continuous panoramic street-level photograph of a location. The French edition, launched Thursday, covers only a small—but very special—subset of French streets: the route of the famous Tour de France cycle race.
In the U.S., StreetView offers near-complete coverage of the streets of a number of cities. It raised privacy concerns when it launched there, as people who never expected to be photographed found their movements displayed to a worldwide audience.
Google offered to remove disputed StreetView photographs from its servers, but as Google's camera cars began to appear in Europe, campaigners there warned that local privacy laws put the onus on Google to remove sensitive material before a complaint is made.
In France, the company's response is to blur faces and car registration plates caught on camera.
The process is entirely automated, a Google France spokeswoman said. If the technology doesn't do its job satisfactorily, then there is also a link on the StreetView site where people can request human intervention to blur faces or remove inappropriate content.
Google registered the service with the French National Data Processing and Liberties Commission (CNIL), as all organizations holding computerized records of personal data must do.
The CNIL said the blurring feature was a step in the direction of respect for people's private lives, but warned that the system is not 100 percent reliable. People photographed in profile or car registration plates visible through a grill or caught at an angle are not always detected and blurred, it warned.
Launching the service with such a small area of coverage allows Google to test public reaction while limiting the workload for its face blurring software: A quick virtual tour of the Place de la Concorde in Paris, and remote country roads in the southwest of France, shows that there is plenty to do.
Although the face detection and blurring system dealt well with crowds waiting at pedestrian crossings on Place de la Concorde, the faces of passengers on the top deck of a tour bus, halfway up Avenue des Champs Elysées, escaped blurring. Near the top of the avenue, approaching the Arc de Triomphe, a small truck's number plate was also left unblurred.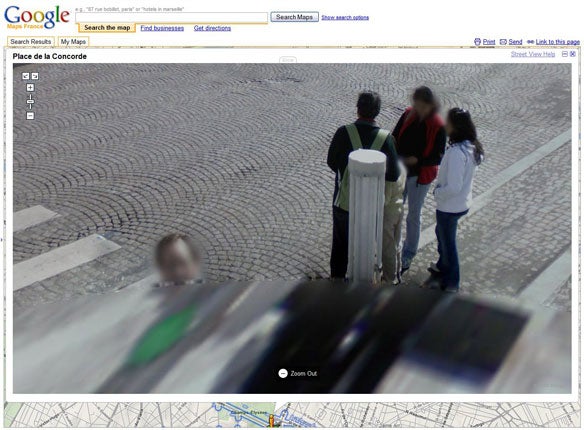 There are some odd sights, too, including someone climbing the wall of the Louvre museum, and an apparently severed head lying in the center of Place de la Concorde.