Virtual Programming has announced that its Macintosh conversion of the strategy game Europa Universalis: Rome is now shipping. It costs $39.95. It's available first as a download; Virtual Programming also plans to release a boxed edition shortly.
Europa Univeralis: Rome, developed by Paradox Interactive, is a standalone game based on the Europa Universalis engine. A turn-based strategy game, Europa Universalis: Rome puts players in the role of the leader of a Mediterranean civilization during the era from the first Punic War through to the start of the true Roman empire — you can play any date between 280 B.C. and 27 B.C.
The game features 10 different cultures ranging from Roman to Greek, Celtic, Egyptian and more, with more than 53 playable factions on a map spanning hundreds of provinces. You use political intrigue, negotiating, establishing trade routes and waging war with your neighbors, advancing your technology and your culture throughout the Mediterranean world.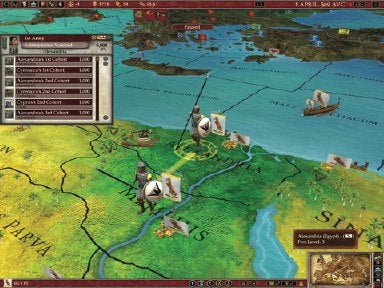 The game also features multiplayer capabilities — hosted through Paradox's own Metaserver, used for its PC games — that supports up to 32 players either in competitive or co-op modes.
System requirements call for Mac OS X 10.3.9 or later, G5 or Intel-based Mac, Nvidia GeForce 5200 or ATI Radeon 9600 or better 3D graphic with at least 64MB VRAM (not GMA950), 512MB RAM, 700MB hard disk space, and broadband Internet connection for online play and registration.