Maverick Software has announced its plans to release original games for the iPhone and iPod touch. The company is planning to release four games and software toys for the devices through the App Store once Apple launches the service.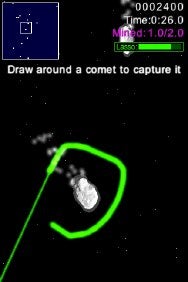 The new products include Comet Cowboy, an action game in which you zip around space, mining comets by lassoing them with your laser. It will be available for $4.99.
Yulan Mahjong Solitaire is a version of the tile-matching game designed especially for the iPhone and iPod touch's unique multitouch interface — you can zoom in and out using pinch, select tiles with a tap and ask for hints if you get stuck. It features eight board layouts and infinite undo, and will also cost $4.99.
Snowglobe isn't a game as much as a 99 cent software toy that turns your iPhone or iPod touch into a snowglobe — you shake the device to make flakes swirl around, and you can use pictures from your image library to be inside the globe, customizing the number, size and speed of snowflakes.
Blip Solitaire will be a free release — a solo version of the classic game "Pong." You move your paddle around a circle, trying to keep the ball bouncing side to side.
Maverick Software is the shareware imprint of one Glenda Adams, the director of development for Aspyr Media. Adams developed casual Mac games as something of a hobby, in addition to her career as a Mac game developer. As Adams' responsibilities at Aspyr have increased she's had less time for coding her own personal projects, so it's been several years since we've heard from Maverick.
Adams noted earlier this year that Apple's introduction of a Software Development Kit (SDK) for the iPhone had stimulated her to try her hand at coding again, and these first four titles are the result.