Marware has announced its Sportfolio and Sportfolio Deluxe bags for Apple's MacBook Air. They're priced at $49.99 and $79.99 respectively.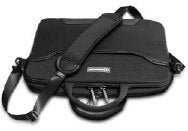 The Sportfolio can be used as a slim "briefcase" style bag with a shoulder strap. The strap can be removed and it can be used as a protective slipcase in a larger briefcase or backpack. The Sportfolio exterior is made of Neoprene, and it features a large interior pocket, plastic inserts for impact protection, exterior pockets, dual lined zippers, carrying handles and an easy-grip bottom.
The Sportfolio Deluxe has a plush lined interior, an external "Orca skin" pocket that can expand, a zipper lining to protect against scratches, plastic inserts for impact protection, interior pockets that fit a power adapter, remote, SuperDrive and iPod, camera or mouse, and headphone access.