Limit Point Software has announced the release of PhotoTiles 1.0, a new utility for Mac OS X that turns a set of images into a tiled image. It's been released as "donationware."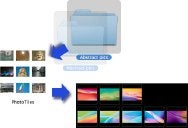 PhotoTiles helps you arrange a set of images into an array. You can determine the dimensions and size, then drag a folder of images onto the application. It will then process the contents of the folder and ask you to specify the output image format and location. You have control over the number of columns, cell size, cell spacing, border, image border, and whether file names are included.
System requirements call for Mac OS X 10.4 or later.